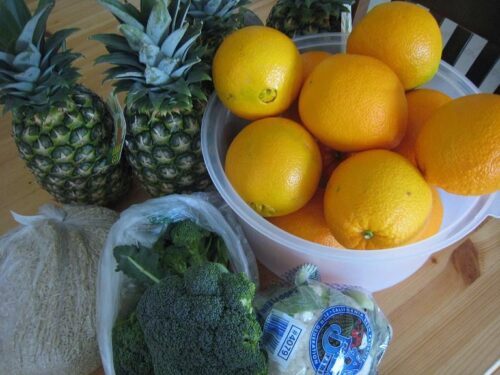 Since I did so much shopping and cooking at the beginning of the month, I've got a free pass from shopping this month. Well, almost. I still have made trips out for great deals and for produce and milk. But, it's so nice not to feel like I have to go anywhere.
This past week we scored on the produce. Both Sprouts and Henry's had some sweet sales. Highlights?
oranges $.15/pound
brown rice $.69/pound
pineapples $.88 each (used a raincheck from previous sale)
broccoli $.77/pound
caulifower $.99/head
clementines $2.99/5# box – $1 coupon = $1.99/5 #
shrimp $2.99/pound
Also made a trip into Ralphs for milk, canteloupe ($.33/lb) and cabbage ($.25/lb). Pop over to Good Cheap Eats for a chance to win $25 Kroger (and affiliates) gift card.
To see more ways that people are saving money, visit Super Savings Saturday.