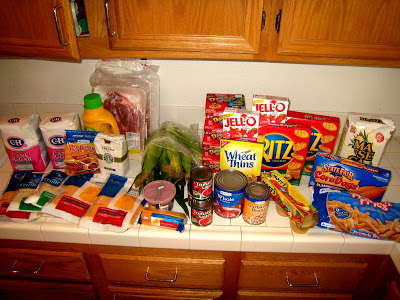 If you live near a store owned by SuperValu, then you might know about this great Kraft rebate that is going on. Purchase $25 of select Kraft products and receive a $5 catalina (store coupon) at the checkstand as well as a mail-in rebate for $20. Basically, for the cost of the stamp, you're getting $25 in free food. But, depending on what kind of coupons you have, you can make this a money-making proposition.
This afternoon I headed out to my local Albertsons with a stack of coupons in my arsenal, including a store coupon for $6 off an $80 purchase. I bought $25 worth of Kraft items, but I also used $8.05 in coupons toward those items. That means that the items were "free plus overage." Since a rebate will be applied to the purchase, the coupon savings helped offset the cost of my other items.
And since my purchase prior to coupons was above $80, I received another $6 off my total. I had coupons for other things that I bought which further lowered my tab. In the end after redeeming all my coupons and subtracting the pending rebate, I paid $37.25 for all that is in the above picture. This includes
4 roasts @$1.99/#
6 packages of cheese = free plus overage after coupon and rebate
6 ears of corn @4/$1
3 cans tomato sauce @3/$1
6pk applesauce $2
4 packages of Danimals crush cups $1 each
3 boxes of crackers = free plus overage after coupon and rebate
Starbucks coffee = free overage after rebate
2 boxes Jello = free plus overage after coupon and rebate
3 canned tomatoes 3/$1
corned dogs $3
french fries $2.29
garbanzo beans $1
canned tomatoes $1
laundry soap $2
pepperoni $2.49
maseca $3
sugar $2.50/4#
The Kraft items were virtually "free," but instead of stocking up on free oreos and frozen pizzas, tempting though they might be, I tried to choose items that were absolute necessities: coffee, cheese, and crackers.
In other news, I also stocked up at my local health food store for fresh dairy, produce, fresh pork @$1/#, and oats $.50/#. The items below cost another $43.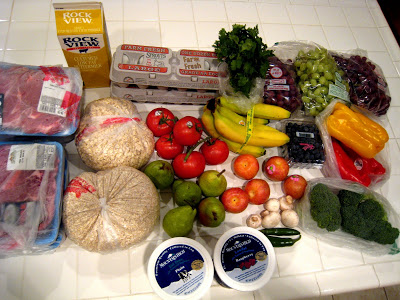 A trip to Costco for lettuce, carrots, breads, and milk should round us out for the coming week. Check back Sunday night to see what plans I have for all this as well as some tips on how to plan side dishes.
How did you save money on food this week?