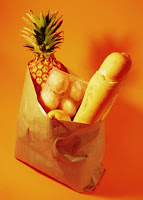 Thankfully, the sales haven't been so good that I've been tempted to go over budget. This week two local stores had 8 hour sales so FishPapa hit one on his way from work while I took the kids there on our way home from our playday.
It can be wearying to continue this "cherry picking," going to different stores for different items as opposed to doing all my shopping in one place. But, in order to keep our food budget in check, this is what I need to do at this season.
Amongst our deals this week were:
* Groceries
4 pound ham $3.96
5 pound box clementines $4.99
3 pound bags apples $.99/bag
Kellogg cereal $1.50 – $1 coupon = .50/box
boneless, skinless chicken breast $1.77/#
pork country style ribs $.99/#
Fast Fixin's chicken strips $1 – .75 coupon
gourmet entertainment crackers $1.99 – $1 coupon = $.99/box
organic bananas $.77/#
hormone/antibiotic free pork loin $1.89/#
Bob's Red Mill whole wheat flour $2.50/5# bag
*Baking
I've been focusing on making sure we have what we need to get through the week and trying to fit loss leaders in where I can. I baked a lot this week; 6 loaves that were quickly devoured.
*CVS
Later today I am heading to CVS to use my $10/$50 coupon. I've never had one of these big ones before, so I'm keeping my fingers crossed that it works out well.
*Picture Photo Cards
The highlight of the week was my trip to the Kodak Gallery. I staged an impromptu photo shoot of the kids one morning and was able to get 30 cards for $.48 shipped! Yes, praise God for coupon codes. Then while I was on a roll, I got 30 baby announcements (finally) for a little over $5. This was a great deal. Thanks Money Saving Methods and Freebies4Mom for pointing it out.