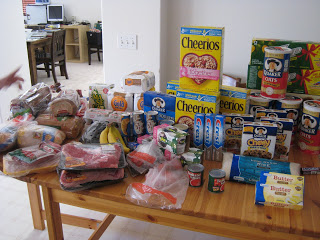 Last weekend I was a shopping maniac. I went to Walgreens, Stater Brothers, Ralphs, Albertsons, SUPER Walmart, AND Vons. I had a blast and got a boatload of food for great prices.
Disclaimers:
1. It took some research to find coupons and locate the deals. Thanks go in part to my partner-in-crime coupons, SaveAtHomeMommy, and MoneySavingMom for leads on good coupons as well as the good folks at HotCouponWorld who maintain a great coupon database.
2. I went out twice – once by myself (no kids) and once with FishPapa (no kids). While I love to be with my children, grocery shopping is not the moment for us to have "quality time." I am on a mission and need to focus, as it were.
All computed, I spent $115.48, some items not pictured. And my bro made a run to Costco for me, rounding out my week's budget of $150. But, we got some great deals and will be eating from this "stockpile" over the months to come.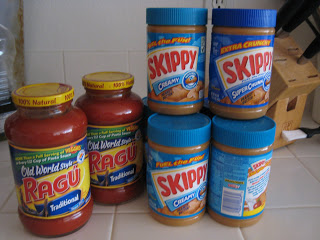 Some highlight prices:
After coupons and catalinas, where applicable.
Peanut butter and Ragu were $.16/jar
unbleached flour $1.50/bag
YoPlus yogurts $.50/4pack
Cheerios $.20/box
Pillsbury rolls free + overage
butter 1.67/#
juicy juice $.50 – $1
raspberries $.99
dial liquid soap $.25
Quaker granola bars $.75/box
tri-tip $1.97/#
whole chicken $.69/#
bread 1.44/loaf
eggs $.99/dozen
42 oz Quaker oats $1/box
sodas $2/12 pack
Plus, my coupon buddy picked up a case of apples for me for $13. The store's price was $.33/# for granny smiths! Apple pie, anyone?
Since I keep a mental note of prices I knew that these were pretty close to rock bottom prices for things that we normally buy. I made a concerted effort not to buy anything too junky. Yes, I know there's sugar in my peanut butter and corn syrup in my granola bars, but overall this is void of super junk.
Did you snag a great deal? Share it. Here's where we can "grocery geek out."
Find more deals and steals over at Super Savings Saturday.