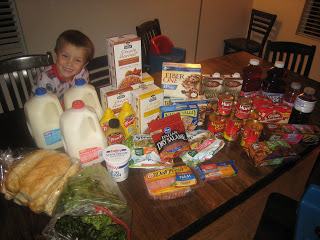 Ya know, I said I wasn't going to do too much couponing. But, I can't resist a good stockup sale, and that's what Ralphs (a Kroger company) had this week. I got all of this for about $36. That includes a few things that were not sale items, like lunch meat and rolls. There was a good bit of free stuff, including SOBE Life Water, chili, and mustard. The bummer with Ralphs is that though they double coupons, they will only double one of each kind. So it's not as great a deal for stockpiling as it could be. Still, it felt good to know I was getting some great sale prices. And it was fun again.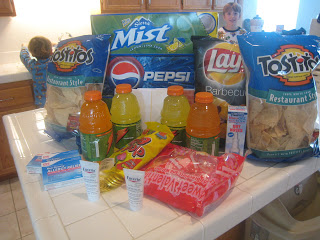 CVS has been very kind lately. I got all this in two transactions.
Trans #1
2 allergy meds @$3.79 ea = 7.58
3 greeting cards @$.99 ea = $2.97
1 Nasogel = 7.99
candy bracelets = $1.99
2 Eucerin @ $.99 = $1.98
ringpops = $1.49
Subtotal $24
Minus Naso Gel coupon $2
Minus CVS coupon for lotions $3
Total due $19, paid $17.99 in ECBs and $1.01 in cash.
Rec'd back ECBs for $7.58, $3, $7.99 which is $18.57, making my cost 43 cents!
Trans#2
3 12 packs Pepsi products $9
3 bags chips $7.50
4 gatorade $4
gold coins $.99
bottle "deposit" $2.20
Subtotal $23.69
Paid $22.57 in ECBs, $1.12 in cash
Rec'd back $10 in ECBs. My cost was higher here, $13.69, but I will file for the Pepsi rebate here and get back $15 in coupons which you know I will use at CVS sometime soon. So in a sense, I made a profit.
If you're new to this CVS thing and wondering, what in the world is all that, my CVS primer for January should explain a few things.