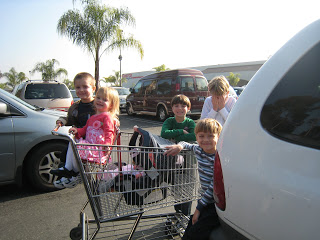 FishPapa and I are finding that our household (and me, in particular) is less stressful if I'm not doing a lot of running around. Before FishBaby came it wasn't too hard to run to six different stores each week and pick up all the good deals each one had to offer.
Now? Well, now it's a different story.
Feeding our small army could be a full-time job – remember Alice from the Brady Bunch? We are realizing that getting groceries needs to be streamlined a little bit more.
So, we're amping up our Costco plan just a little bit. In 2009 we intend to do 75% of our grocery shopping at Costco. At the moment, that's my guesstimate for what's available there at a reasonable, if not great, price. We are going to try to keep our grocery budget at $100-125/week. This figure includes all toiletries, diapers for two, and food. I'm not positive that I can pull this off. But, we'll see.
We intend to reduce the amount of time planning and shopping. We'll combine great local produce from Sprouts and occasional forays into CVS/Walgreens with our Costco plan. And we'll pray that this little experiment works!
So, now we're putting our theories to the test.
Yesterday I took ALL SIX KIDS to Costco – solo. And it was actually pretty easy. In fact, compared to a trip to Walmart or a regular grocery store, it was a breeze! They like it; there are samples to snack on; the aisles are super wide so we don't block up traffic. In fact, I can't remember but one time when my kids fought in Costco.
At the other stores? Not so good.
Heck! Just having a peaceful shopping trip with all my children is probably worth the little added expense I might incur buying something that wasn't a screaming deal.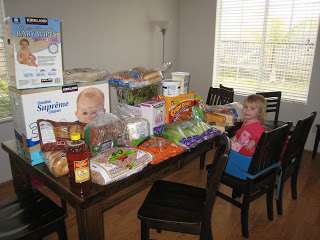 Today my bill was around $250 but my fridge, freezer, and pantry are packed to the gills. I'm going to spend the weekend making up menus for the next 2-3 weeks and see how far we can stretch what we have. Come back Monday for a peak at menu plan, ingredients list, and recipes.
6 heads romaine lettuce 2.99
5 pounds organic baby carrots 4.49
4 pounds organic baby greens 3.59
2 gallons nonfat milk 4.19
2 pounds cheddar cheese 5.39
2 pounds jack cheese 4.99
2 pounds romano cheese 12.23
3 pounds string cheese 8.39
24 oz. feta cheese 6.39
10 pounds dried pinto beans 6.89
208 diapers 37.99
30 double rolls toilet paper 19.59
8 packages baby wipes 15.49
2 dozen hot dog buns 2.49
32 hot dogs 11.29
28 corn dogs 8.69
4 pounds potstickers 10.29
2 dozen bagels 9.98
5 pounds honey 9.99
2 pound sourdough bread 2.99
2 loaves whole grain bread 3.99
6 petits pain 4.49
2 pounds sliced turkey meat 7.58
6 dozen corn tortillas 3.59
3 dozen flour tortillas 4.39
2 whole chickens 9.52
1.5 liter organic olive oil 12.69
3 pounds sour cream 3.79