One of the ways that I can regularly cut our family's expenses is to keep a supply of toiletries and over-the-counter medicines on hand at all times. Rather than buy these items at full price when we need them, I keep an eye out for good sales on the products that we normally use, like toothpaste, toothbrushes, shampoo, and ibuprofen. When I see a great deal, I buy several of these and store them in our linen closet.
I've been doing this for about 2 years now and the savings has been enormous. Rather than stay brand loyal to a few products, we've been able to try a range of new products, some better than our old stand-bys. (That said, FishPapa is loathe to move from his standard hair gel. And I'm okay with that since it happens to be a brand that frequently offers coupons.
For quite some time it was my weekly practice to bop into both CVS and Walgreens to hunt the sales. But, thanks to a great stockpile, when life got too busy for that, I have been able to coast on what we already had. Last month, I slowly started to get back to into it.
Learning the Drugstore Game
If this is all new to you, consider today your primer in playing "the drugstore game." These deals are no longer good, but they'll give you an idea of what it would look like "roll" your store coupons for "money back." These particular deals were at Walgreens.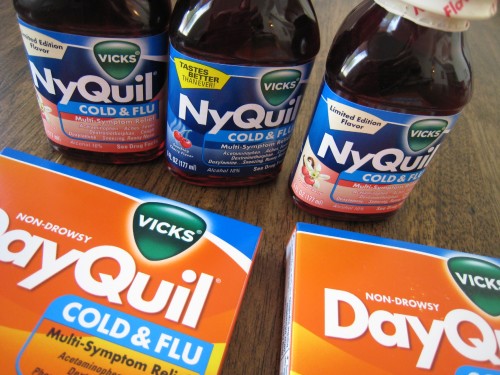 Week 1's Deal: Purchase $20 of NyQuil products, receive a Register Rewards.
Bought 5 Nyquil Products @$4.49 each
Subtotal = $22.45
Used 4 $1.50 coupons
Paid $16.45 + tax out of pocket.
Received back a $10 coupon for my next Walgreens trip; this is called a Register Reward. (RR)
Feels like I spent $6.45 +tax on 5 packages of cold medicine.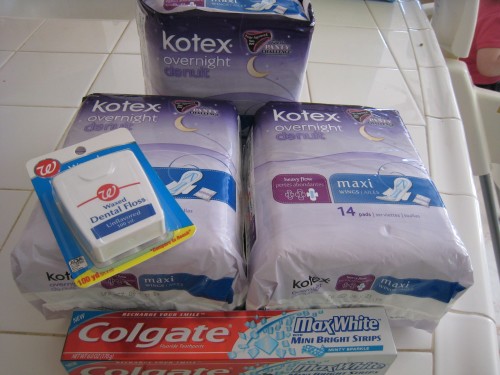 Week 2's Deal:
Bought 3 packages Kotex @$2.99 each = $8.97
Bought 1 package unflavored dental floss for cinnamon rolls = $1.99
Bought 1 Colgate toothpaste @ $2.99
Subtotal = $13.95
Used $1 Colgate coupon
Used $1 Kotex coupon
Used $2 Kotex coupon
Owed $9.96 + tax
Redeemed $10 Register Reward from Week 1
Paid remaining tax out of pocket
Received back a $5 RR for the Kotex and a $2 RR for the toothpaste.
I now have $7 to spend on the following week.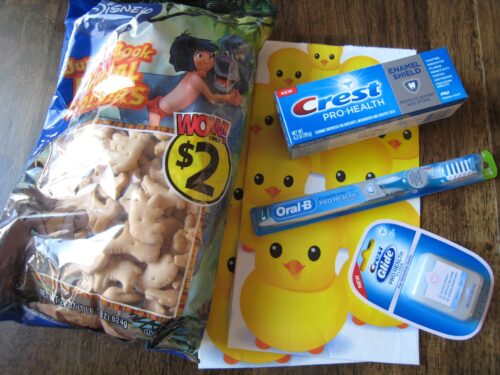 Week 3:
Bought 3 Crest/Oral-B products @$3 each = $9
Used $0.75 Glide coupon
Used $2 Oral-B coupon
Used $1 Crest coupon
Keep in mind that I had $7 to spend, but my total is less than this. Walgreens will not give you money back on Register Rewards. Plus, you can't have more coupons than items. The register will reject that. So, I had to add some "filler." I chose two gift bags and some animal crackers. I was in a hurry and my family was waiting in the car. Otherwise, I might have made other choices.
Bought animal crackers $1.50
Bought 2 gift bags @$0.29 each = $0.58
Redeemed $7 in RRs from Week 2
Paid $0.33 + tax out of pocket
Received back $3 Register Reward for next time.
So, over three weeks time, I've spent about $20 out of pocket, purchased 2 toothpastes, 1 toothbrush, 2 dental floss, 5 cold medicines, 3 Kotex, 2 gift bags, and a huge bag of animal crackers and I still have $3 left to spend.
Yes, it takes some math and paying careful attention to sales, but you can easily keep your family supplied in toiletries and other sundries for quite little money. This definitely works for me!
Do you play the Drugstore Game? If not, how come?