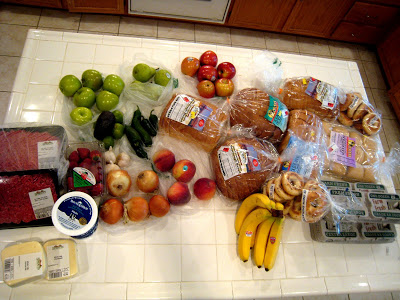 One of the beauties of stockpiling and shopping from the sales is that some weeks I don't need to go shopping. The sales have been really good over the past weeks, so this week I didn't get too freaked out about shopping. My brother, otherwise known as Charles in Charge, picked up a few basics at Costco and I bought what's pictured at our local health food store.
Some of the highlights:
clearance bread $.99/#
apples $.99/#
eggs $1.25
hamburger $1.99/#
mozzarella cheese $2.99/#
Did you get any great deals this week? How often do you shop? Do you keep certain basics all the time?