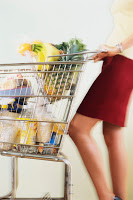 Last week I had my grocery lists going and was all set to hit the stores on Saturday morning. We had been eating out of our stockpile, and I was looking forward to getting some new provisions to liven things up. Friday afternoon's mail brought a stack of junk. But couponing has taught me to filter the junk carefully. In amidst the offers for credit cards and free debt was a postcard from Vons, a Safeway store. It was filled with coupons for several free and discounted items.
That night I went back over my shopping plan and made a few adjustments. I wasn't originally planning to go to Vons, but the deals were too hard to pass up. The result was that the next day I paid $40 for all of this!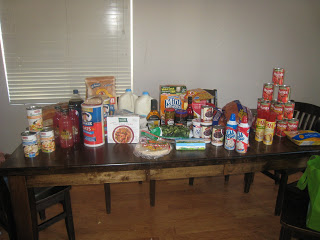 Some of the highlights:
flour tortillas – free after coupon
Pepsi – free after coupon
Kashi frozen meal – free after coupon
Butter – $.99/#
Kelloggs cereal – free after coupons
salad dressing – free after coupon
salsa – free after coupon
large ja olives – $.69 after coupon
2 gallons milk $2 each
4 cans soup – $.38 each
This load of groceries was accompanied by $50 of bread, produce, dairy, and meat from Sprouts, bringing me under $100 for the week – to feed a family of 8!