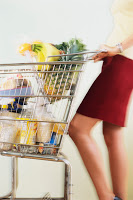 Sorry I didn't get anything posted for Saturday morning. My kids have been sick all week, and yesterday was my day to get all the errands done. And if you've been running around half the day, you know there's bound to be work to do when you get home. So my afternoon was occupied.
Last night I made a stellar, last-minute trip to Walgreens. It gave me that feeling that I had done something right that day. Driving home I realized that I have done more bragging about my hot deals than explaining how YOU can do them, too. So, I'm going to change the format of my Grocery Geek posts so that they are more instructive than boastful. I hope. Let me know if something doesn't make sense.
Furthermore, I realize that my lots of my posts have drifted toward dollars and cents lately — due in part to the fact that that's what's on my mind. But, I'm hoping to get my content a little more well-rounded now that the dust is settling from having a SIXTH baby and moving cross-country. (If that doesn't get you seeing things in terms of dollar signs, I don't know what else will!)
I welcome your feedback. I want to present what's helpful to YOU. So, please feel free to leave a comment or write to me at lifeasmom(at)sbcglobal(dot)net.
So, here's what I bought at Walgreens last night. This particular transaction cannot be exactly replicated this week, but I hope it will give you an idea of how to get good deals. Several of these items are still bargains this week.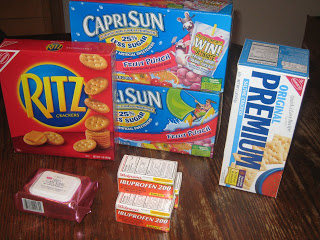 –2 Capri Sun, 1 Ritz cracker, 1 Premium saltine cracker: These are part of a Kraft deal good until the end of the week. But $10 of selected Kraft products, get a $3 coupon off your next Walgreens order. (It's called a Register Rewards coupon.) These are on sale for $2.50 this week. It works out to $1.75 per item. I don't think this is a great deal on crackers, but follow me through the rest of the scenario and see how I got them "practically free."
— 1 L'Oreal facial cleansing towelettes: These cost $7.99 but I would never pay that price. They are free after rebate this month, ending this coming weekend.
— 3 Walgreens brand Ibuprofen: These were on sale yesterday 3/$10, but there is a $5 rebate when you buy 3.
So, here's what I did:
2 Capri Sun $5.00
1 Ritz $2.50
1 Premium $2.50
L'Oreal towelettes $7.99
Ibuprofen $10.00
My subtotal was $27.99
Minus $1 L'Oreal coupon from the newspaper
Minus $5 off a $25 purchase coupon
This brought my out of pocket expense to $21.99. That seems like a lot, doesn't it? Let's look at my "cost."
$21.99
Minus $7.99 mail-in rebate for the L'Oreal
Minus $5 rebate for the Walgreens brand items
Minus $3 coupon from Kraft purchases
That brings me to a $6 cost for all of the above items!
You could do this same transaction this week, however, your total cost would be a little higher on the Walgreens brand OTC medicines.
** The trick with the rebate is to submit your claim online. Open a Walgreens account online, type in the code to your receipt, save and return with additional receipts for the month. At the end of the claim period, the computer system will automatically file your claim. If you request a gift card, they will give you a 10% bonus. And with each subsequent rebate, you can have the same card refilled. That way you only wait a few days to get your money back.