I mentioned that we are trying to stock up more on the basics at Costco. However, there were such good seasonal sales this week on things that I don't buy at Costco, that I had to venture out. I had to. Honest.
I hope this doesn't mean I am addicted to grocery shopping.
Yesterday I ventured into three grocery stores, once with all SIX KIDS in tow. They behaved very well, by the way, because we were stocking up on all this ice cream!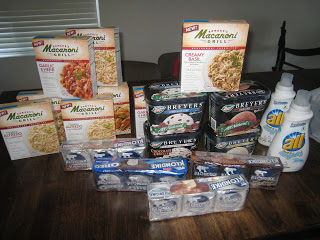 If you follow sales you know that the SuperValu family of stores, including Shaws, Cub Foods, and Albertsons had a "Buy $29-30, get $15 back" sale. So, I did two transactions, stocking up on lots of ice cream, a couple bottles of detergent and lots of Macaroni Grill supper kits. I think the pasta kits might go well in Christmas gift baskets or be good items for a food drive. They were $.40 each after all the coupons and discounts! For that load of stuff plus 2 gallons of milk I paid $19!
Then last night I headed to Vons for their Season of Baking Sale. They recently changed their coupon policy so it took a little work to finagle all the coupons and stuff, but for $40 and some change, I got this. We are set on baking for the winter, I think, with a turkey and the makings of FishBoy7's birthday dinner to boot.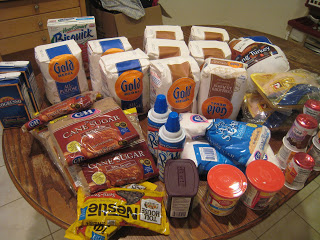 Lastly, I made a stop at Ralphs, partially because the baby was still sleeping and the others were home with FishPapa, partially because there was a "Mega Mix and Match" sale going on. $20 bought me all this junkfood, milk and apples – which I guess are missing from the picture.
Isn't it wierd how the cheap stuff isn't all that good for you?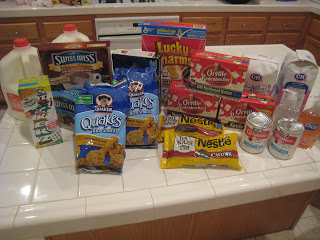 Now, my pantry is almost completely stocked, possibly for the rest of the month. We'll need to replenish with dairy and produce. I don't have to go shopping for quite some time.
But, you know, Walgreens is having a really big sale on cereal next week….