Grocery Geek Presents: Shopping for Freezer Cooking and Fresh Produce
We are a participant in the Amazon Services LLC Associates Program, an affiliate advertising program designed to provide a means for us to earn fees by linking to Amazon.com and affiliated sites. We participate in other affiliate programs as well. For more details, please see our disclosure policy.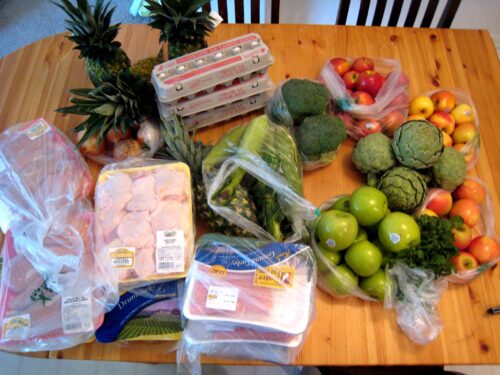 This past week's shopping has revolved around freezer cooking. My pantry and freezer were starting to look a little bare. So, once I made my detailed plan for once-a-month cooking, I started scanning the sales to see what changes I needed to make. Turns out I had few changes to make. The grocery stores cooperated with my hopes for lots of chicken meals in the next month.
Not only was boneless, skinless chicken breast on sale for the typical $1.98, but I found legs and thighs for $0.59/lb. I also cashed in a rain check to get bone-in breast for $0.87/lb. The rest of my freezer cooking shopping involved a few odds and ends that I didn't already have in the cupboard.
Health Food Stores Have Great Prices on Produce
I also took advantage of some great produce prices. If you live in So Cal, you'll want to acquaint yourself with Henry's Markets. It's a health food store which means expensive on most things. But, they rock on produce. The same goes for Sprouts. Here are the prices I paid this week:
pineapples $0.88 each
artichokes $0.88 each
corn on the cob $0.25 each
apples $0.88/lb
broccoli $0.88/lb
eggs $1.29/doz
A Word About Club Warehouse Stores
I also headed to Costco for the best prices on high quality ziptop bags as well as cheese and artisan breads. I used to buy all my milk and chicken there, but have found that the sale prices are better at the grocery store. So, if I can wait for a sale, I do. (Also, their milk recently reverted back to hormone milk. I was disappointed about that, but consoled that my grocery stores only carry hormone-free milk, so it's all good.)
For some, paying the Costco membership is not worth it. We've been members for over 15 years and we love it. Their food court is a super cheap and fun place for feeding a family of 8, and many of the gourmet items that I prefer are available at their lowest price at Costco. I know that I make back my $50 every year, but am also pretty sure that it does save us money on stuff we would buy anyway.
That said, please exercise caution at Costco, just like at Walmart. There are way too many "fun" items that you don't need at very decent prices. It's easy to get swayed.
How did your shopping go this week?