Grocery Geek Presents: Shopping for OAMC
We are a participant in the Amazon Services LLC Associates Program, an affiliate advertising program designed to provide a means for us to earn fees by linking to Amazon.com and affiliated sites. We participate in other affiliate programs as well. For more details, please see our disclosure policy.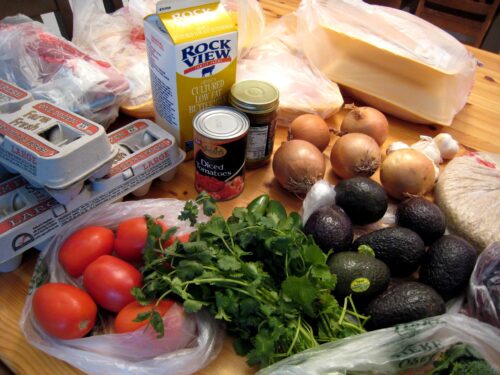 Since we spent far below our regular grocery budget last month, I've been encouraged that perhaps we could spend less all the time. Here's hoping anyway. This week I did a big stock up. Since I'm leaving town for a few days next week, I wanted to make sure that the pantry is replenished for FishPapa and the kids.
One way I'm doing that is spending a few days preparing meals for the freezer. Or rather meal components. I am trying something new this month and preparing the bulk of our meats rather than casseroles to stock the freezer. I think that will help us eat  a little more healthfully but still save me time. If chicken or beef are ready to go for tacos, chimichangas, or stir-fries, I think dinner will come together almost as quickly as sticking a casserole in the oven. As such, that is what I was on the lookout for this week in my grocery shopping.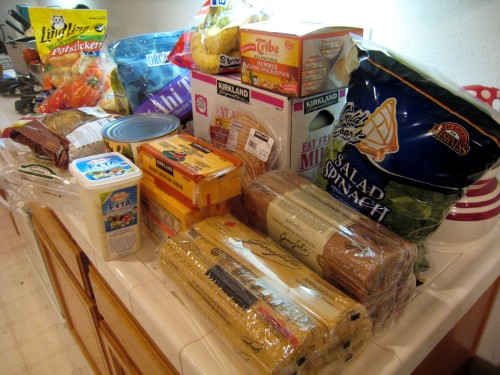 We did one big stock-up on cheese, milk, pasta, fish, olive oil, and some veggies at Costco this week. I spent $165 there. That sounds like a lot, but many items, such as that olive oil should last for several months. Note that I bought whole wheat as well as white pasta. I intend to mix the two spaghettis as a stealth way to get more whole grain into our diet.
Then the kids and I made a run to Sprouts for eggs, fresh produce, brown rice, and meats, spending $55 (pictured above). Chicken breast was $1 a pound as were pork strips. I picked up some boneless chicken for $1.77 a pound. These are basically the lowest sale prices in these here parts, not counting markdowns or coupons, so it was a great time to stock up.
On the way home from date night FishPapa and I picked up ziptop freezer bags and lean ground beef for $1.67 a pound from Stater Brothers, spending $20. This brings our February grocery total to $240. I'm thinking that leaves $160 left for the month, which could easily cover milk and produce.
Since we are making efforts to eat more whole grains, reduce sugars, and increase our fruits and veggies, these grocery purchases seem to fit the goal pretty well. I realize that coupons may be scarce for many of the items that I intend to buy, but if I can stick in our budget and improve our diet, I'm good.
How are you refilling your pantry this week?