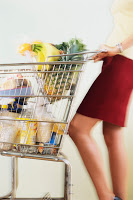 Since I've done my huge mess of cooking this week, my grocery shopping over the next few weeks will be limited to breakfasts, lunches, snacks, and the occasional "screaming deal" for stockpiling.
I thought it might be good for me to make some goals for the rest of our meals, since now I won't be cooking every night!! Yeah!
Here's what I'm thinking:
Bake our bread unless there is a fantastic deal. Thanks to my dad's gracious gift of a bread machine, I'm back in the baking business. The price of wheat is not all that friendly, but I've found one store that sells Kansas-grown wheat for a reasonable price.(It is, after all, the highest producing wheat state.)
Purchase less junk. In light of our recent junk food conversation, I realized that while buying cheaper items of necessities is well, a necessity, buying "cheap" prepackaged sweets and snacks is not necessary to our existence. We've got quite a lot of brownies and cake mixes stashed already, as well as a load of Chex Mix. So, this week I resisted purchasing pretzels and potato chips even though they were good deals after coupons and sale. I do reserve the right to buy as much ice cream as I want, though. It's a pregnant lady's prerogative.
Make better lunches. FishPapa's lunchbox suffered this week since my last trips to the store focused on dinner items and I was all cooked-out. So, I hope to concentrate more on making sure he has what he needs to make his day go better. Nothing's worse than being hungry when you've got a huge project to accomplish.
Focus on fresh produce. I don't know about the rest of the country, but the fruit sales have been pretty dismal around here. Prices are, generally, over $1/#, even for summer fruits. What is the world coming to?
So, here's the gist of my shopping this week and month:
Total spent on OAMC: $370.50
This should last seven weeks (at least) so I am prorating it ($52.93/wk)so that I can still have some food money to spend in July. I spent $56.17 at Walmart last night, so I'm right on target.
I decided to "price match" at Walmart this week, since there were just a small handfull of sales at the grocery stores. Circumstances were such that I had to take ALL FIVE FISHKIDS with me. And I just didn't have the energy to say "Don't touch anyone" fifty times as we marched through three stores. So, it worked to do Walmart. FishPapa even met us there after work and took the kids to look at "their stuff" while I checked out.
(Side note: I learned that I need to leave "their stuff" [toy and video game aisle] to the end. That way if someone acts out, they suffer, not my grocery shopping. Yes, there is an art and a science to this grocery shopping thing.)
Here's what I got to fill out our stores for the next week or so, keeping my above goals in mind:
granny smith apples $1.28/#
peaches $.98/#
bananas $.47/#
tomatoes $1.28/#
strawberries $1.48/#
crescent rolls $1.50/can
really good sourdough bread (marked down since close to date) $1.67/ 1 # loaf
eggs $1.88/18 pack
Yo Plus yogurt $2.23 – $1 coupon = $1.23
large container cottage cheese $2.58
large container plain yogurt $2.12
Kashi TLC crackers (my favorite) $2.78 – $2 coupon = $.78
regular popcorn (not microwave) $1.34
brown sugar $1.36
Balance bars $4.98/6