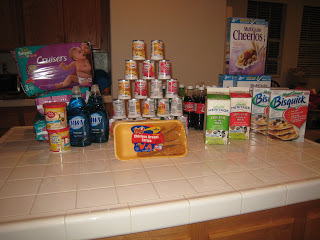 at Costco.
While we set some grocery goals this year that will affect our time, money, and comfort, FishPapa and I know that there are some things that just aren't the best to buy at Costco. It's not a big deal, but I want to maximize our savings where we can. And taking advantage of really good deals when we do, indeed, want to have those things is something I hope to work into the scheme of things.
Plus, getting the deal is still really fun! Especially now that I don't feel so much pressure to do it.
This week I went to CVS and followed my primer for January. They didn't have the Naso Gels, but I was able to get four boxes of throat coolers which my kids like when they're sick. Here's what I did:
2 cases bottled water 2 for $5.99
bottle deposits $2.40
4 Throat coolers @$4.99 ea = $19.96
1 newspaper $1.75
Minus B1G1 Throat Cooler coupon -4.99
Minus B1G1 Throat Cooler coupon -4.99
Total due 20.50, paid with ECBs and a gift card
Rec'd back $19.96, making my total cost $.54! Yippee!
Pictured above are the great deals that I got at Albertsons. You can see an in-depth post of the sales and coupon match ups at I am Frugal. Just double check them for your area. If you live near a Shaws, similar deals are to be had there.
After coupons and catalinas, my costs were:
Organic milk = free (win some for yourself here)
Yoplait yogurts $.37 each
chicken strips $1.14 (they changed the price on me so it wasn't the deal I expected)
Pampers $3.50/package
Bisquick $.25
Cheerios $.25
Dawn $1.17
Frosting (for my bday cake challenge!) $.37
Sodas $1.67/6 pack
How did you fare this week? Any big savings?