Grocery Geek Presents: Squeaking In Under Budget
We are a participant in the Amazon Services LLC Associates Program, an affiliate advertising program designed to provide a means for us to earn fees by linking to Amazon.com and affiliated sites. We participate in other affiliate programs as well. For more details, please see our disclosure policy.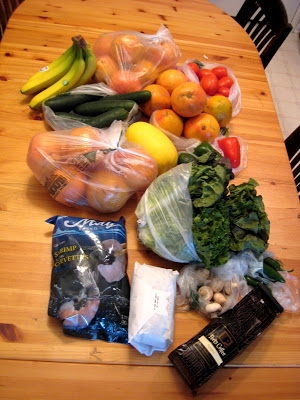 This past week I've been trying to build the bulk of our meals from the pantry. My goals for this "Eat from the Pantry" Challenge have included spending $400 (or less) on groceries in the month of January and focusing on what we have. This is at least $200 less than I normally spend. Considering that FishBoy5 broke FishBoy9's retainer this morning, it looks like I have a good place to put the grocery savings. The replacement cost is $245, so I have some added motivation to make this challenge a success.
Over last weekend and into the week we picked up some odds and ends. Hello! Odds and ends add up! I guess that's another good reason I'm doing this challenge: I'm learning something about our spending. A pound of Peet's coffee picked up during Mom's Morning Out or a box of popsicles that Papa picks up when he takes some kids to Walmart are "hidden costs" that all add up. Keeping a little more careful track this week was eye-opening. We'd gotten lazy with our envelopes and fallen back on the debit card a little too much. Time to get back to some good habits.
While the pantry and freezer still show signs of life, the fridge was starting to look white with all the blank space. Dairy and fresh produce were the major purchases of the week. I was pleased to see a local store had oranges for 11 cents a pound and apples for 29 cents a pound. (You know I had to buy the whole box!) Grapefruits were 19 cents each at Sprouts and I had a rain check for shrimp about to expire, so those purchases were must-dos. That, plus a quick trip through Costco for milk and cheese, and I think we're good to go for awhile.
All told our family spent $96.74 on groceries this week, bringing our 2-week total to $174.31 since Christmas. So far, so good. For the play-by-play on what we're eating during the challenge, visit my food blog, Good and Cheap Eats.
How did you do on your grocery shopping this week? If you haven't yet joined the challenge, it's not too late to start.