This week was a shocker to me. I didn't expect much from the grocery stores based on what I saw in the ads, but when all was said and done, I came out pretty good.
First up, Ralphs on Tuesday night. They had a sale ending, so I thought I'd take advantage of it since I had to do an errand over there anyway. $19.07 bought me this. The beauty of it was that the peanut butter generated $3 in catalina coupons for my next purchase. Since they were only $.99 to begin with, that makes for a great deal! Here is how it breaks down: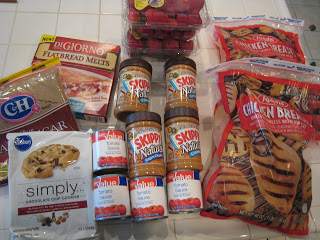 3# bags of chicken for $5.07 each, $1.69/pound
peanut butter $0.99/jar
strawberries $0.99/#
cookie dough – free after coupon
DiGiorno flat bread – free after coupon
sugar $1.99/2#
tomato sauce 4/$1
Wednesday is the day that our local health food store has double ad days. The kids and I make it a once a week errand. And once again they had great deals on produce, dairy, and meat. I paid $50.72 for the following: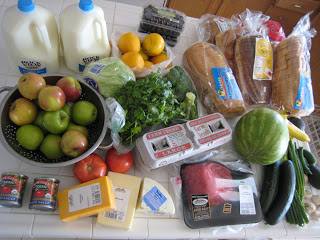 watermelon $1.50
blueberries $1.99/18 oz
oranges $0.29/#
cilantro 3/$1
cucumbers $0.69 each
avocados $1.25 each
iceberg $.77/head
tomatoes $0.99/#
broccoli $0.97/#
jalapenos $0.99/#
bananas $0.69/#
green onions 2/$1
blue cheese $3.99/#
jack and cheddar cheeses $1.99/#
milk $1.99/gallon
eggs $1.39/doz
clearance breads $0.99 – $1.50 (I got six packages. We ate three and froze three.)
tomato sauce $.09 after coupons
rump roast $1.99/#
I returned to Ralphs later in the week for their Mega Match sale. I wasn't too hopeful, having compared their sales to other Kroger affiliates. They tend to charge us West Coasters an average of 50 cents more on sale items. But, it turned out to be a great score. $26.92 for all this! And I'll get $10 back from the Kellogg's rebate, making this purchase really around $17. Yowza!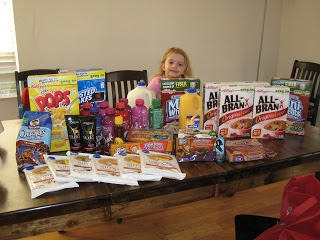 Kellogg's cereal and Keebler cookies – free after sale, coupons, and rebate
rice cakes – free plus overage after sale and coupons
orange juice – $.84 after sale and coupon
milk $.99 after sale and coupon
cookie dough – $.54 after mark down and coupons (print your own for $1.25)
Sobe lifewater $.38 after sale and coupon
Oscar Mayer Deli Select ham – $.50 after markdown and coupons
YoPlus yogurt $2 after sale and coupons
FishPapa's favorite hair gel $1.75 each after sale and coupons
sesame oil $3
sugar $1.29/2# after coupon
A few notes on some items:
** We use sugar cereal for dessert, not breakfast. And I thought I'd try baking with the All-Bran, mixing it into muffins, etc, since they probably won't like it for plain eating. Since they were all free, I can't really lose trying.
** We don't normally gorge ourselves on refrigerated cookie dough. Really. This is a new one from Pillsbury, called Simply. Since I'm part of General Mill's Pssst, they send me coupons and free samples from time to time. Recently they sent me some Simply coupons, including one for a free product. They are a healthier version of refrigerated cookie dough, containing no high fructose corn syrup, 0g transfat, and no artificial whatevers. These are normally $3.54 at Ralphs, but were marked down to $1.79 because they had way too many in stock. Coupled with a $1.25 coupon, I got them for 54 cents! They are good until October and can be frozen. Print your own coupon for $1.25 and $1. Keep your eyes peeled for clearanced items. Often there is no reason for the markdown other than overstocking.
On a non-food note, I got all this for free from CVS! I had $4 in ECBs, spent another $9 out of pocket and rec'd back $13 in ECBs. You can't beat free!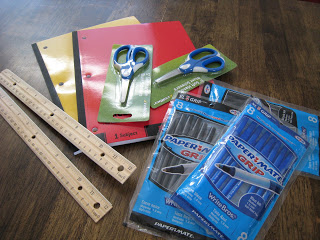 When all was said and done, I spent about $96 during the week, and I will be getting back $10 in rebate.