Grocery Geek Presents: Target's Gift Card Deals
We are a participant in the Amazon Services LLC Associates Program, an affiliate advertising program designed to provide a means for us to earn fees by linking to Amazon.com and affiliated sites. We participate in other affiliate programs as well. For more details, please see our disclosure policy.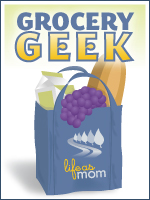 Each Sunday I eagerly scan the Target ad. Usually, there's really nothing I want from clothing, shoes, or electronics. It's the back few pages that catch my interest.
Target Gift Card Deals
You see, Target regularly offers grocery gift card deals. These are signified by a little red $5 gift card on the ad. They usually require that you buy a certain number of a specified item and then you get a gift card back. If you regularly shop Target, this is a pretty good deal. If you use coupons, it's even sweeter.
This week the ad said, "Free $5 Target Gift Card with Purchase of 5 selected Kashi items listed." The sale price was $2.88 per item. That means that after the gift card savings, each item was really $1.88. Not a terrible price for Kashi, which tends to use less processed ingredients than other brands. Yes, it still has sweeteners, but they are less processed. Evaporated sugar cane juice, or sucanat, actually has vitamins and minerals in it that plain white sugar does not.
But, that is for another post….
Well, we certainly like Kashi. And I knew that I had a few Vocalpoint coupons left. And I had also picked up a few Kashi coupon books I'd found in the health food store. So, I was game for a trip to Target. As it turned out, the cereal boxes also had peelie stickers with three $1 coupons. Talk about your sweet deals.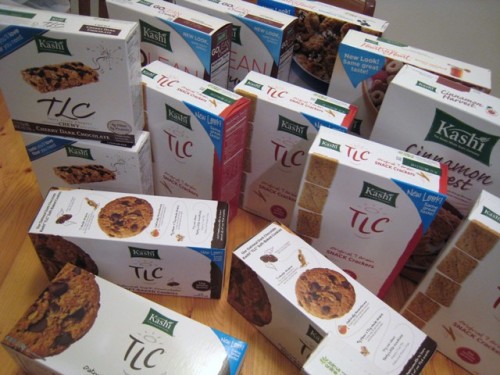 I ended up getting 15 Kashi items (crackers, cereal, cookie, and bars). Depending on the coupons, I spent between $0.50 and $0.88 per box. While we have been altering the contents of our pantry over the last few months, I know that we have several trips, Disneyland included, on the horizon. I want some easy "grab and go," prepackaged items.
Savvy Couponing
This is one of those savvy couponing things that took me awhile to catch on. In the old days, I might have bought one or two boxes, not even the whole five item deal. I might have been satisfied with $1.88 a box. But, when you're dealing with packaged foods with an extended shelf life, you can't afford not to stock up.
Granted this stash will be gone in about 6 weeks, but I won't be buying crackers or boxed cereal at full price during that time. And we've got some fun vacation food in the process.
Do you do the Target Gift Card Deals? What's been your experience? Any tips or tricks?