Grocery Geek Presents: Three Stores, 2 Hours, $50 OOP
We are a participant in the Amazon Services LLC Associates Program, an affiliate advertising program designed to provide a means for us to earn fees by linking to Amazon.com and affiliated sites. We participate in other affiliate programs as well. For more details, please see our disclosure policy.
This morning the FishChicks and I loaded up in the van for our Grocery Geek outing. I don't often take them with me — or at least I try not to, because I usually forget coupons, club cards, or gift cards because I'm too busy keeping track of children. (Though, a trip to Target is a different story.)
Anyway, we did really well. No one got lost. No one fell asleep. No one threw a tantrum, not even me. And did we score on the good deals, or what?
I'm hoping that this post will show you how you can really stretch your dollars, using coupons and checking the sales. Granted two hours may seem like an investment to some. But, before I ever clipped a coupon, my weekly shopping trip took me two hours anyway in one store. I've cut my spending almost in half doing it this way.
Last night I clipped the newspaper inserts that had been piling up, pulled the expired coupons, and came up with my shopping plans based on the sales that each of my grocery stores posts online. I did this while watching our Friday family movie, so I wasn't missing out on family time while I multitasked. For a more in-depth explanation of how I coupon/shopping plan, read my Adventures in Couponing series.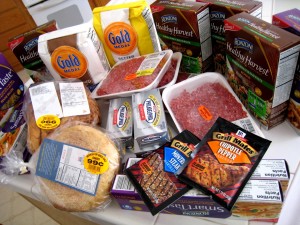 The first grocery store we hit this morning was Albertsons. I had posted the So Cal Albertsons' deals earlier in the week so I was really familiar with their ad. I took some extra time to print the Ronzoni pasta coupons that Crystal shared. Today I got 10 boxes of pasta for $0.25-$0.50 per box. I also found some rolls and bread for $0.99 on markdown as well as 4 pounds of extra lean ground beef for $1.49/pound. The cream cheese was $1.29; the McCormick spices were $0.25 after coupons, and the flour was $1.04 per bag after coupons. All of that, plus a $3 off a $30 purchase and I got this entire mess of food for $19.23. I also received another coupon for $1.50 off my next purchase, thanks to the cream cheese purchase.
So, in my mind, this really cost me $17.73. That's a lot of food for less than $18!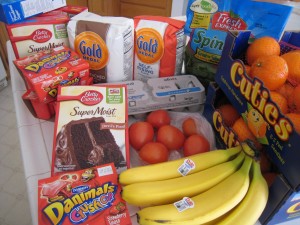 Next stop: Vons. As I shared last night, Vons (a Safeway affiliate) has a great baking sale going on with flour for $1.29 a bag and Betty Crocker cake mixes for $0.69. I opened up a Cellfire account so that I could load some Betty Crocker coupons to my grocery store card and got one cake mix for free while the others were $0.69 each, still a great deal. Eggs were $0.99 and Cuties, after coupon, were $3.77. Spinach was $0.99 a bag; bananas – $0.47/pound and tomatoes $0.88/pound. The yogurts were on sale for $2 minus $1 off coupons and they were $1 a package.
The grand total here was $18.69.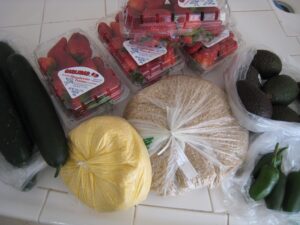 Last stop on the Grocery Geek Adventure was Henry's where I rarely use coupons but the produce and bulk deals are exceptional. Strawberries for $0.98; cucumbers and avocados were $0.50 each and brown rice was $0.69/pound. Throw in some cornmeal and jalapenos for good measure and I was out a mere $13.58.
So, my GRAND TOTAL for today's work was an even $50!
Proof positive that being a grocery geek pays. Ready to begin your couponing adventure? You can start by browsing the selection of printables at Coupons.com as well as checking the Sunday Coupon Preview. 
Disclosure: I received a Safeway giftcard in conjunction with this giveaway which you can enter until tomorrow night. I was not compensated to share my opinions.