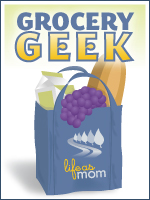 Last week during our vacation, I got a chance to spend time with my friend Christina. She fed us a wonderful meal of grilled wild salmon, quinoa, and fresh vegetables from her local CSA. And we talked about everything under the sun: traveling, homeschool, and most importantly, food.
Our talk left me with a burning desire to try out a CSA subscription. Christina gets all her fresh produce from a local, organic farmer. And it was all delicious!
As I mentioned in my Food Your Way article this week,
A CSA, or Community Supported Agriculture, is a way to buy local produce directly from the farmer. Growers offer a certain number of shares to the public for purchase. Each week you receive a box of whatever's in season in exchange for your subscription.

There are benefits to both the purchaser and the farmer. You get fresh produce, often delivered to your home, and he knows that he's sold a certain portion of his produce before the busy growing season begins.
So, when we got home I did some research and found that I could buy a "trial subscription" for about $30 a week for 4 weeks. Each week we can pick up a large box of fresh produce at the Farmer's Market. Since my grocery budget is currently about $150/week, I felt like it was an okay thing to test out.
Here's what we picked up this week: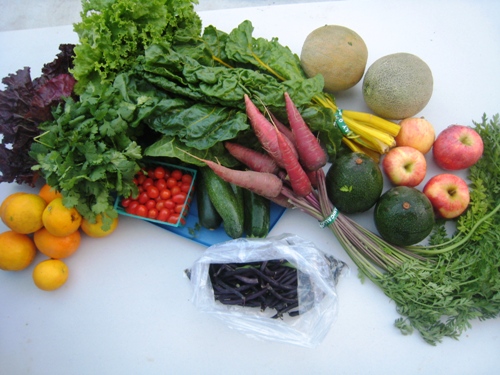 4 apples
6-8 oranges
2 heads lettuce
1 large bundle of swiss chard
purple carrots
4 zucchini
2 large avocados
2 melons
large bundle of cilantro
purple string beans
grape tomatoes
Yes, this is a total departure from my previous grocery shopping adventures. To some this may seem like a measly amount of food for the money. I think if I were always buying organic produce, I might have a better idea.
Certainly, what I buy on a regular basis is not grown locally and therefore, has to travel many days and miles before it gets to us. I also don't buy organic unless it's a rock bottom price or comparable to the standard variety. And we know that I am no good at growing it myself these days.
I've been told that the quantity of produce can vary from week to week. So, perhaps the next three weeks will give me a better idea of how to decide. At the moment I'm on the fence, hoping for some amazing culinary adventures.
What do YOU think?