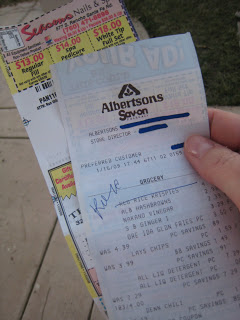 One way that I saved money this week is a way that anyone can. No need to clip coupons. No rebate forms. No special equipment. My six year old could do it. And thanks to Johann Gutenburg, it's a universal money saving method.
It involves the ability to read.
This week was rather a dud in my neck of the woods as far as great sales are concerned. I did head over to Albertsons one night for their 8-hour sale. And dud it was. There were supposed to be great deals on cereal, one thing that I won't pay much for. Kelloggs cereals were 3 for $4.98 and I had $1 off coupons on several types, making them potentially $.66/box. Of course, the details in the sales flyer were rather cryptic; "select varieties" was some of the wording. So, I just had to take my chances that they had in stock what they had pictured in the ad as well as others that were in my coupon stash.
When I saw the tag "Krispies with Strawberries – 3/$4.98" I was particularly pleased since I had coupons for those. And I headed out with a fun cereal for the kids. As I was walking to the parking lot, I glanced at the receipt. It read, "Rice Krispies – $4.99." Huh?
As it turned out, the sale "krispies" were the store brand. Very clever marketing since it was the same price as Kelloggs. Makes you wonder if someone sits in a cubicle all day trying to figure out ways to trick frugal shoppers.
Needless, to say, I returned the Rice Krispies. No way I'm paying 5 bucks for a box of cereal!
Lesson learned: Checking your receipt could save you money.
To see more ways that other people saved money this week, visit Super Savings Saturday.