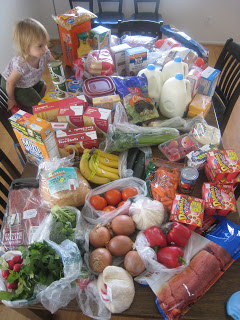 It can be done. I was worried that it couldn't. But I think it can.
I think it can.
Living frugally in Southern California is within reach.
I entered 2009 thinking I might reduce my couponing efforts, but going over budget early on made me rethink that idea. With the start of March I decided to make a more concerted effort to stick to our grocery allowance. I made a thorough meal plan based on the sales, got cash for groceries instead of relying on paying with plastic, and put in the time for coupon matching. And it has paid off. The first week of March resulted in this huge load of food.
And this week's shopping trip(pictured above) reinforced my belief/hope that we can make ends meet, even living in Southern California.
This week's total was $107.00, so I'm reducing next week's shopping accordingly in order to stay on track with our $100/wk budget. Here's how this week broke down:
taco shells $1.30/box
saltines $2.29
olives $.99/can
pasta $1/box
lasagna noodles $1.69/box
baby rice cereal $2.99
cereal bars $1.49 after coupon(s)
cup o' soups $1.00/6 pack after coupon(s)
oreos $1.29 after coupon(s)
no yolks $.25 after coupon(s)
ice cream $1.99
orange juice $.98 after coupon(s)
yo plus $1.25/4 pack after coupon(s)
french bread $.25 after coupon(s)
hot dog buns $.99
4# chicken breasts $3.16 after coupon(s)
top sirloin steaks $7.54 after markdown
gr beef $1.49/#
8# oranges $2.99
caesar salad kit $.98 after coupon(s)
-$10 store coupon off entire purchase
danimal crush cups $1.00/4 pack after coupon(s)
instant oatmeal $.50/box
Progresso soups $.15/can after coupon(s)
bagged salad $1
frozen salmon $3.73
rubbermaid containers $.99 after coupon(s)
bananas $.77/#
tomatoes $.69/#
strawberries $1.50/#
bell peppers $.77 ea
cilantro $.25
green onions $.25
celery $.99
radishes $.25
onions $.25/#
bread $.99-$2/ loaf
milk $1.99/gallon
canned organic tomatoes $.25 after coupon(s)
cukes $.99 ea
To see more super saving shopping trips, visit Money Saving Mom on Saturday mornings.