I've told you before what a glutton, I mean, foodie, I am. I live to eat! Always have. Always will. I thank God for all the great foods He invented. Wow!
(Some I could do without, like the cow brains I choked down in France. It was all I could do not to throw up at the table amongst all the fancy china and linen and silver. I'm guessing cow brains may just be due to the Fall and not really what God intended His children to eat. But I digress….)
Since I love to eat, I love to cook. And since I love to cook, I've always enjoyed going to the grocery store. Providentially, my first teenage job was at a grocery store, and so I learned the ins and outs of the supermarket. It was great preparation for my future career – feeding the masses.
Remember how I used to spend $250/week on food for two people? Over the years as we have woken up to the reality of our financial situation and what really constitutes good stewardship, my grocery budget has shrunk. I can't just buy Brie and Gorgonzola at the drop of a hat. Sundried tomatoes are no longer a staple on my list, but rather a once-in-awhile treat. And since I couldn't "make myself happy" in the supermarket aisle, grocery shopping had lost some of its glimmer.
You know the story. Looking at the numbers on the computer screen and realizing that the "fun money" is flying out the window to pay for diapers and dogfood. It can be pretty depressing. Like I've said before, I used to shop Walmart and do the "price-matching" thing. And I thought that I was doing all that I could do to feed my family economically. And then the coupon entered my life.
Yes, I had used them before, but I didn't understand how to maximize their usefulness. So, let me show you what coupons and shopping from the sales have done for me lately.
Since it's summer vacation, my schedule is wide open. I split up my shopping into several trips this week, in part to break up the monotony for the kids. Ha! On at least one occasion, it was an exercise in frustration to take all 5 with me. But, by the end of the week, when I enforced the "don't touch anyone – even if you want to hug him" rule, we were in business.
So, without further ado….
At Price Chopper:
I stocked up on meat and chicken for my Once a Month Cooking Bash. Bone-in chicken breast was $.77/# (bought 20 pounds!) while ground beef was $1.69/# (about 18 pounds). These were sale prices related to Fourth of July. I guess it's wise to plan my OAMC around a holiday. I also picked up four more boxes of Blue Bunny ice cream pops. These were $.99 each and I had $1 coupons. So they were free. We also picked up some dairy and produce. For all that meat and a few odds and ends, I paid $55.38. This may seem like a lot compared to my $100/week budget. But, remember, I'll be cooking 4-6 weeks' worth of meals, so it's all going to work out, isn't it?
(Sorry, no picture to help you visualize. This was the disaster trip before the "don't touch anyone" rule was instituted.)
At Hy-Vee:
It was a coup! All this for $27.00 even!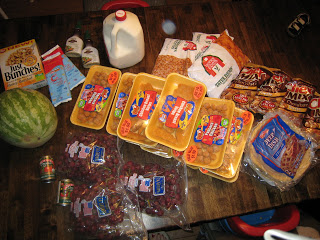 grapes $.99/#
seedless watermelon $3
10 packages Fast Fixin's chicken $1 each – $1 coupon = FREE
Just Bunches cereal $2 – $2 coupon = FREE
5 bags Chocolate Turtle Chex Mix $1.25 each – $1 coupon = $.25 each
2 Ken's Lite dressing marked down to $.25 each – $.55 coupon = FREE + overage
2 cans Muir Glen Organic tomato paste $1.05 – $1 coupon = $.05
Pie crusts (cause I'm feeling very pregnant and a little lazy) $1.88 each
frozen taters (cause I'm feeling very pregnant and a little lazy) $1.25 each
2 Huggies Clean Team hand wipes @ 1.19 each – $3 coupon = FREE + overage
CVS: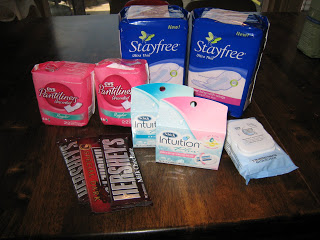 They sent me a very cool $4/$20 coupon good on the 4th. So the kids and I headed out bright and early yesterday morning. (FishPapa was working.) We received a very formal greeting from the manager since we were their third customer all morning. This transaction was rife with spur of the moment decisions which usually does not work out in my favor. The totals didn't match the coupon requirement, so I had to keep going back for other things. But, as you'll see, it worked very well.
2 packs Stayfree pads @ $4.49 each = $8.98
2 packs CVS pantiliners @ $.99 each = $1.98
1 CVS facial towelettes = $2.99
2 Schick Intuition refills BOGO = 9.69 for both
3 Hershey bars (last minute filler) $1.50
Subtotal was $25.14 + tax
Minus $4/$20
Minus $3 Face product coupon
Minus $2 Skincare coupon
Minus $4 Intuition coupon
Minus $4 Intuition coupon
Minus Stayfree BOGO coupon for $4.49
Total due $3.65 + tax
Paid $3 in ECBs and the rest in cash
Received back ECBs for $1, $1.98, and $1.50.
Last, Walmart: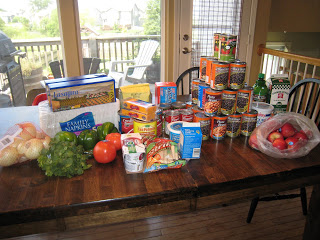 Here I did more stocking up for OAMC: The end result was $69.99.
So, my total for the month is now $152.37
Stay tuned for the OAMC Updates next week. This has been Grocery Geek reporting.
top image from allposters.com