Grocery Geek Presents: What's a Loss Leader?
We are a participant in the Amazon Services LLC Associates Program, an affiliate advertising program designed to provide a means for us to earn fees by linking to Amazon.com and affiliated sites. We participate in other affiliate programs as well. For more details, please see our disclosure policy.
The term loss leader is one that is thrown about quite often and it's one you want to know. Especially if you want to save money at the grocery store. Loss leaders are the items that a store sells at a loss. See pears advertised for $.20/pound? Well, the store is not making a profit off those. In fact, they may actually be losing money. But, like a good ad campaign, loss leaders draw customers through the door. And once you're there, are you really going to limit yourself to just those pears?
The store wants you to stick around, do all your shopping there – pay for the overpriced milk and cereal and whatever else you might need. And you can do that. No condemnation here. There's a time and place for everything.
But, you can save money if you try to limit your purchases to stocking up on loss leaders.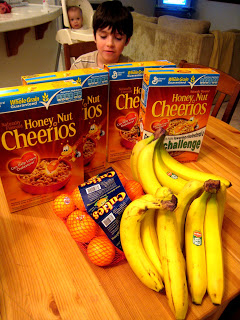 Case in point #1: Cereal, bananas, clementines
I bought these Sunday night. Since my freezer is full, there isn't a lot I need to buy. But, I can stock up on great deals so that when I do need them, I won't pay full price.
Honey Nut Cheerios: $.50-$.75/box (after sale and coupons)
bananas: $39/pound (sale)
clementines: $1/pound (sale)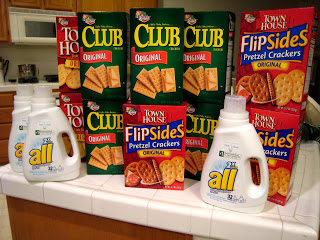 Case in point #2: Crackers and laundry soap
crackers: $.50/box (after sale, coupons, and gift card rec'd)
laundry soap: $1.50/bottle (after sale and coupon)
Obviously, man cannot live on loss leaders alone. At least not during the week of purchase. But, if you make a habit of buying more than you need just for a week, eventually you'll build up a stockpile that can carry over into future weeks.
In the above illustrations, the bananas and clementines are gone already. But, I make a habit of letting the loss leader produce dictate our fruits and vegetable choices for the week. I've rationed my kids to one box of cereal per week, so we've got a month's supply. The crackers (all ten boxes) should last through the end of January — at least! And the laundry soap should see us through New Year's.
Purchasing loss leaders is one great way to save money. What do you do?
** Read Jen's post, Are Coupons Worth It? for another perspective on this loss leader/couponing phenomena.