What can I say? Cantaloupe was 4/$1 this week. I bought 8. The first two were delicious! I'm hoping that the rest are as well. Got any great suggestions for what to do with melon? I'm thinking of trying it with vanilla ice cream like I heard Rachael Ray talk about years ago.
Despite the fact that I never got my garden planted, we are clearly enjoying the fruits of summer. The sales — and the flavors — have been incredible.
So sweet (pun intended) that I did some canning. It's been five years since I made jam, but I thought it was time. With strawberries 77¢ a pound and blueberries 88¢ a pint, the moment to experiment has arrived. Typically FishPapa isn't crazy about either one in the form of jam, but I bet the kids would be. I may mix them up with some fresh nectarines from the tree out back. Hmmm… what will I think up next? For starters, though I made a small batch of strawberry. Yummy!
Anyway, along those lines, here's how I did in my shopping this week. For those of you following along with my progress in The All You Grocery Challenge, staying under budget has been pretty easy. I just have to plan. My mental week ends on Saturday, but the spending week for the challenge ends on Sunday, so I have needed to keep that in mind. I ended last week with an after church stop at Henry's where we stocked up on some great produce and meat deals. That brought our Week One total to right around $125, out of an allotted $175.
This week finds us still under budget going into the weekend. I spent $50.98 at my local health food store, buying: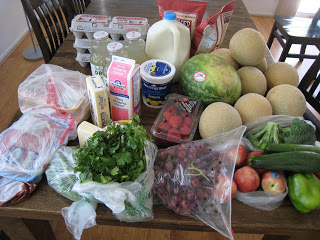 bulk paprika $.76
butter $2
eggs $1.39 each
milk $2.49
cream $4.49
yoghurt $2.50
colby $1.99/#
jack $1.99/#
Santa Cruz lemonades $.50 – after sale and coupon
Boulder Cyn potato chips $1 – after sale and coupon
pork loin $1.99/#
chicken tenders $1.99/#
broccoli $.88/#
cantaloupe 4/$1
cilantro 3/$1
green beans $.99/#
green bell pepper $.77
red bell pepper $1.25
zukes $.49/#
grapes $.99/#
watermelon $1.50
strawberries $1.25
nectarines $.99/#
And then another $20 or so at Ralphs: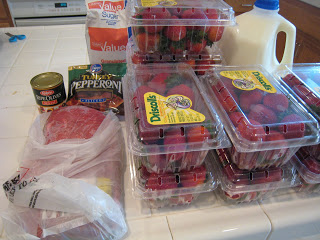 strawberries $.77/#
London Broil $1.69/#
black olives – not on sale
milk $.89 after sale and coupon
pepperoni – not on sale
sugar – $1.99
We really don't need anything more, except to go nab those super cheap blueberries!