WARNING: This post involves some math.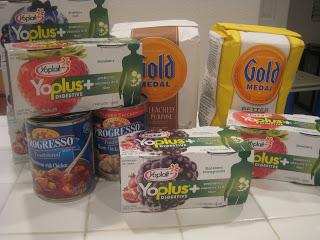 How's that for a lengthy title? Could I be anymore vague? Hopefully, this will clarify.
I mentioned earlier that I was chopping my food budget for the week. I stocked up on fresh produce and a few miscellaneous items on Sunday night, and we've been using up what's on hand in the fridge, freezer, and pantry. It's so nice to see some cleared shelving. Helps me make sense of what's what.
The one shopping outing this week yielded the above pictured items from Albertsons. "The deal" was to purchase 10 items from a select group and you would get a $10 coupon (aka Catalina) for your next shopping trip. Basically, that meant it would take $1 off the cost of each item I was buying in the deal. (For those of you who are learning to CVS, this is similar to an ECB deal. Buy X, get Y back in store "money.")
It just so happened that I had some very nice Progresso soup and Yo Plus coupons, $1.10 and $1.50 respectively. I worked into my ten items some other things in the promotion that I really, really needed: flour. The flour was not a good price, $3.33 per bag. But, I worked it with the coupons to be a very good deal.
6 Yo Plus yogurts @ $2.50 each
2 Progresso soup @ $1.50 each
2 flour @ $3.33 each
My total was $25.66
Minus (6) Yo plus coupons totalling $9
Minus (2) Progresson coupons totalling $3
That means I paid $13.66 out of pocket (oop)
I got back $10 to spend at Albertsons, making my cost for all of these items $3.66! Yeah!
To learn more about how people are maximizing their hard earned money, visit Money Saving Mom every Saturday.