I've been enjoying having my mom here since Tuesday. I've dragged her along on my shopping expeditions. She was so wowed to see that I "saved" $100 at Ralphs. I only had three coupons, but everything was on sale, so the original total was inflated. That run was to stock up on Gatorade ($.59 ea) and Johnsonville sausages ($1.99/pkg).
This run was at my local health food store that has exceptional prices on produce, meat, and dairy.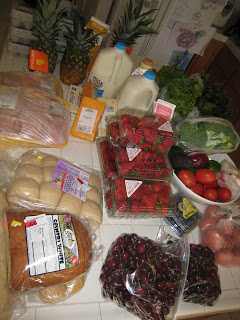 eggs $1.25
lettuce $0.50
chicken breast $1.99
strawberries $0.69/#
blueberries $1.69
pineapples $1.50 each
clearance bread items $0.99
cherries $0.99/#
butter $2.50/#
Last month I went a little over budget ($665 instead of $600), so I need to make up for that this month. Ralphs cost $40 and the above picture was $75, bringing my total to $115 for the week, about $45 under budget. Works for me!
I am also planning to play in the All You Grocecery Challenge. Should be interesting to see how we do.
How did you save this week? Share it over at Money Saving Mom's.