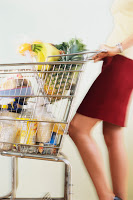 Here's a peek at some of the ways we saved money on food and home supplies this week.
— Returned to Ralphs for more of the Mega Mix and Match Sale. I ended up with lots of free things like dish sponges, lint rollers and evaporated milk. I also loaded up on apples when I realized what a great deal $0.39/# really was.
— Let my brother run to Albertsons for the few things I wanted from there so that I was not tempted to buy things I didn't really need. Plus, by letting him try his hand at coupons and catalinas, I am training a new grocery slave to work for me.
— Bought a load of stuff at CVS for less than $4!
— Instead of running out for a storebought birthday cake for FishChick's bday yesterday when I was feeling "caked out," FishPapa and I brainstormed. We decided on ice cream sundaes with homemade hot fudge sauce instead.
— I was patient about doing the deals at Walgreens. Waiting until the weekend paid off as they released a $5/20 coupon for Friday and Sunday. (Check the pumpkin colored sidebar to click through and get yours.) This proved to be a great way to get a good deal on diapers which we desperately needed.