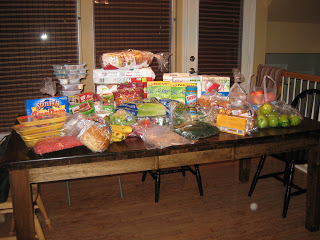 In January our food budget for 7 people rose to $800/month. I thought this was reasonable since I matched it to USDA food cost data. However, at the end of February I discovered this hard-core couponing/money saving/stockpiling/CVS/Walgreens lifestyle. After a few months of learning the ropes at my old budget, I decided to attempt the ambitious goal of reducing our budget to $400. I had read other blogs where women were spending $40 and $75 per week to feed their families, so $100/wk seemed reasonable for us. Last week I spent $78 and so was able to carry an extra $22 into this week's allowance. So here's what I did.
CVS:
I was disappointed last week that I didn't restock on diapers when Pampers were on sale. But, this week, low and behold, I found a rebate form for Huggies that I had printed weeks ago. So, with coupons in my tight little fist….
3 packages of Huggies @8.99 each = 26.97
Minus $3/15 coupon.
Minus (3) $1 Huggies coupons.
Total came to 20.97 + tax. Paid with $ and ECBs. (The balance was $.88 after ECBs and coupons – very cool.)
Will get a $5 rebate from Huggies.
3 packages of Huggies diapers for $15.97 or $5.33/pack – that's the kind of price for diapers that I paid 10 years ago!
Walgreens:
Not too much going on at Wags for me these days, but I'm okay with that since I don't have my new rebate $ back yet. I don't want to shell out any more cash out of pocket until that $ is loaded on my card.
But they had a great deal on cereal and I had register rewards to use, so I made the stop. My new goal for cereal is 50 cents/box. So far, it's working! I have 10 boxes in the cupboard that were free, $.47, $.50!
4 Smart Start cereals = 10.00
1 little filler $.69 (I bought honey instead of M&Ms – going for some nutrients.)
Subtotal was $10.69 + tx
Minus $6 Smart Start coupons
These were two coupons for two boxes each. Walgreens' computer recognized this as four coupons, thus the need for the filler since you have to have more items than coupons. I didn't know the computer would read them that way until I was at the checkstand. Kind of a bummer because I wasn't prepared and chose something very random.
Paid $4.69 + tx (couple bucks cash and some RRs)
Got back $2 RR.
Makes the cereal $.50/box

Grocery Stores:
I went to three grocery stores (insert shocked face here). But, they were within five miles of each other and no children rode shotgun on this trip. I spent $106.00 (including CVS and Wags). I'll spare you the long story about my milk woes and how my favorite store didn't have what I wanted and how none of the three stores had the Indiana Jones cereal for next week's bday boy, but I still need to get 4 gallons of milk and the cereal . I think I can swing that with the $16 I have left to spend.
Other highlights:
I was able to score quite a few free items:
cereal, popcorn chicken, and hot dog buns
due to clever usage of coupons. Pay attention to coupons that are in the aisles at the grocery store. I've found some great deals!
I also picked up ground beef, chicken legs, and brats at good sale prices – all of which will carry us over the next few weeks. Not entirely, but I have carry-over. Also, I splurged on the bday boy's request of corn dogs. These were not on sale (grimace), but it was cheaper than going out to eat for 7 people.
I did a lot of "cherry picking" – just going into stores for what I saw in the sale ads. But, I'm learning to keep my eyes open for unadvertised specials. Some of these have been particularly good, esp. when coupled with a coupon.