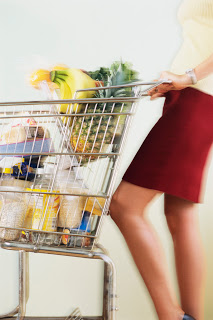 One night last week I headed out with two children and a fistful of coupons. Surely, an outing to the grocery store would provide alone time with my four year old while the baby slept in her carseat and I could get an important errand accomplished simultaneously. Hmmm…yeah…
Well, the baby fussed the entire outing so I carried her, pushed the cart, and kept an eye on FishBoy4. I only lost him once.
OK, he wasn't really lost, but he did take a wrong turn and make my heart race for a few seconds.
And, he proceeded to pitch a fit over my refusal to buy him Batman fruit snacks for his "birt-day".
Which is in May.
Two hours later after not scoring all the deals that I had hoped for, we headed home to unload groceries and make dinner! I think we ate around 8:00. I was exhausted and frustrated because it felt like I was "spinning my wheels," not really doing right by my family.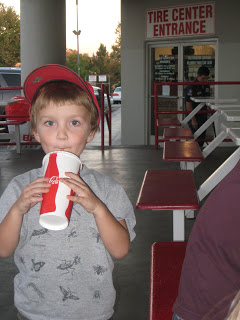 It prompted FishPapa and I to have a great conversation about it all. We did some problem solving and thinking through how to achieve the "good life" for our family. This does not include late dinners and frazzled mothers.
In the midst of our talk, I remembered how Amy bought the bulk of her stuff at Aldi. Well, I don't have Aldi, but I do have Costco as my go-to store for good deals on the basics. We talked about this one-stop shopping idea. Since our family loves an outing to Costco we decided to make this club store "our pantry."
Our plan is to go once or twice a month, take the whole family, eat dinner there, and gather the basics that will get us through the month. Our hope is that I will have a more peaceful time of shopping with the Head Man on board and I won't be making 50 trips to a grocery store every month.
Oh, I'm not dumping my coupons. Oh no. But, I'll be able to make quick little jaunts on my Saturday Mornings Off and just run in for really good deals. And the pressure to get the deal will be relieved a little. I know that I might get better prices hunting down the sales, but that is a stress that still costs me something.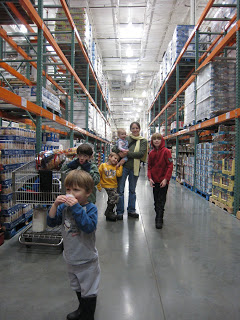 I know from experience that I need to be savvy at Costco. Not all that glitters is gold. And not all that appears to be a deal, is. But, I keep track of prices, and Costco does have the best prices on milk, butter, cheese, bread, some produce, and some meats. I'm still going to embellish by getting great deals on produce at Sprouts and by stocking up on loss leaders at my local grocers'. (Albertsons is still my favorite.)
Our hope is that what we "pay" in possibly slightly higher prices, we will gain in peace, family organization, and more of "the good life."
Wednesday night we put our experiment into practice. First some nourishment. We devoured three hot dogs, a large pizza, and unlimited drinks. Then FishPapa strolled the store with six kids in tow, and they feasted on samples and examined all the- really-cool-stuff-that-we-don't-need. In their wanderings, they only threw one superfluous item into the cart: boysenberry jam for the Head Man. Small price to pay for shopping solo.
In the end, here's what $228 got me: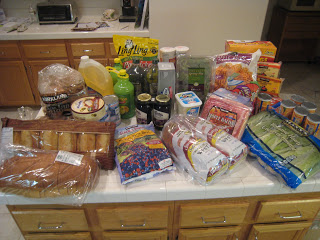 — 2 large jugs of olive oil to last a lifetime, I'm sure
— 1 large jug vegetable oil
— 4 pounds butter
— 1 large box corn dogs, great for no brainer lunches
— 6 mini baguettes
— 2 loaves bread
— 1 dozen bagels
— 1 dozen energy bars
— 1 jumbo loaf sourdough bread
— 2 large bottles lemon juice
— 1 round Brie
— 1 large container Feta crumbles
— 12 cans solid white tuna
— large bag potstickers
— large bag frozen berries
— 4 pounds frozen french fries
— 6 heads romaine
— 3 pounds organic spring mix
— 6 cans frozen orange juice
— 5 pounds Italian sausage
— 2 pounds bacon
— 4 pounds cheddar cheese
— 2 pounds jack cheese
— 3 pounds cream cheese
— 2 large jars boysenberry jam
— 4 cans salt
— 1 large jar garlic powder
— 3 pounds cheese sticks
Come back Monday to see what I'm going to do with it. Thanks to internet inspiration, I've designed a Whole Month O' Meals!