This week I found myself running around and feeling exhausted in my efforts to "nab the good deals." I only went to two stores on Wednesday, but I came home wondering if this is all worth it. FishPapa and I had a great conversation about it, and we realized that while my grocery geekiness pays off major big time in our checking account, it's not worth it if it costs me energy and joy.
We are not throwing frugality out the window, but we are going to search for ways to simplify. One of those ways is to shop at Costco more frequently. As my husband put it, "We'll make Costco our pantry." That is, we'll build off the main items available at Costco, rather than chasing all over town every week. I'll visit other stores when the sales are really worth it. Here is our rationale:
** Costco has the best deal around on many of our staple items, such as cheese, butter, milk, and bread. Their meat department can't be beat for quality. This is not true for everything they sell. But, our basics have been coming from Costco for a long time now.
** Going there is "an event" for our family. The kids love the samples, and we all enjoy eating dinner at the food court. By all of us going for dinner and shopping one night a week, I won't have to feel pressured for time. "Gotta get back to make dinner, relieve my husband, help with bedtime, etc." In some ways having all eight of us on the shopping trip serves our family better than if I go alone.
** We love the specialty products they sell. We're food snobs, and therefore, enjoy picking up wierd cheeses once in awhile. Costco has also been increasing their availability of organic products for low prices which is something we desire as well.
I'll still be couponing and you can bet that CVS and Walgreens will still be my favorite haunts, but I hope I will be doing it all a little more joyfully and not feel so pressured. Check back next week to see what happens.
In other news, Walgreens really wants our business on Fridays and Saturdays. I was pleased to find another $5 coupon in my email on Thursday night. And was surprised to see their coupon also on some of my regular coupon sites. They really want our business. Last week I mentioned that Kraft deal. Well, the CapriSuns have an instant win game, so the FishBoys have been requesting more CapriSuns. I rarely buy these things, honest. But, since the whole household has been sick for almost two weeks, I figured what the heck. And once I found the coupon, it was a done deal. Here was the transaction: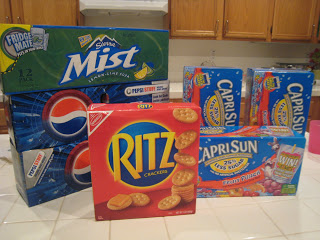 3 CapriSuns @$2.50 each = $7.50
1 Ritz Cracker = $2.50
3 Pepsi 12 packs = $11.00
Subtotal = $21.00 + tax
Minus $5 coupon
Paid $16.00 out of pocket
Received back Register Rewards for $2 and for $3
Total "cost" $11.00 for a whole lot of sugar water.
Seeing as the price on 12 packs at the grocery store and Walmart is locally $4.50, I figured this was an exceptional deal. We don't go through pop super quickly, but with the holidays coming up, I figured it was a good thing to stock up on.