The grocery sales were abysmal this week. Good thing I have a freezer full of food! Since I made use of great sales for my OAMC bash, the pressure is off this week to be super frugal. But, that didn't stop me. No sir. I love that adrenaline rush from nabbing a great bargain.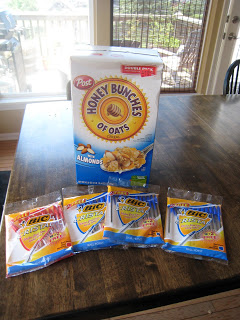 First off, Target. If you click on my coupons.com link in the sidebar or at the bottom of the page, you will find a coupon for $1 off 2 BIC purchases. Well, this week these pens were 50 cents at Target. So, I got them for free! I also had a coupon for a free (up to $3.79) box of Honey Bunches of Oats. This double-pack box was $4.28, which means after the coupon, I paid $.49 for what equals two boxes of cereal. Fits right in with my 50 cent rule.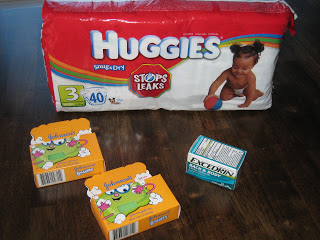 Next, CVS. I made three trips this week, basically following this plan:
Huggies $8.99
Excedrin Back and Body $4.79
2 Johnson Buddies soap @$.99 each = $1.98
Subtotal $15.79
Minus $3/15 coupon
Minus $1.50 Huggies coupon from a free sample that came in the mail
Minus $2 Excedrin coupon
Total due $9.79 + tax, but wait 'cause ECBs are coming.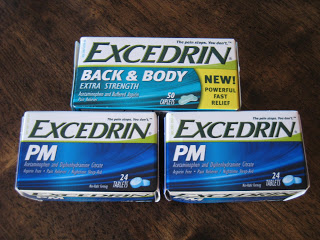 Trip #2
Excedrin Back and Body (larger size) $7.99
Excedrin PM $5.29
Excedrin PM $5.29
Subtotal $18.57
Minus $3/15 coupon
Minus (3) $2 Excedrin coupons
Minus $3 CVS coupon off large size of Excedrin
Total due $6.57
Receive back $10 ECBs for purchasing $20 in Excedrin products.
Total spent in 2 trips: $16.36, get back $10. The "cost" at this point was $6.36, but I sent in for a $4.79 Excedrin mail-in-rebate, so my final cost for 1 pack of diapers and 4 pain killers was $1.57 + tax and stamp.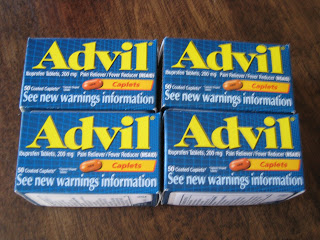 Since FishPapa needs the anti-inflammatory effect of ibuprofen, I took advantage of that sale as well.
Trip#3
4 Advil @ 3.99 = $15.96
Minus $3/15 coupon
Minus (4) $2 Advil coupons
Total due $4.96 + tax for four boxes of Advil.
All in all it was a good week. (I just bought our milk, cheese and produce at Costco, so no other shopping for me.)