My Grocery Game
This week the sales were a little bleak at my local grocery stores. Since I stocked up on so many processed foods
last week
, I felt it was time to load up on more basic ingredients, like beans, pasta, and canned tomatoes. Those items are very expensive at the local grocery store if not on sale. When the deals aren't screaming, Walmart and Costco are the place for me. So, I think once a month this type of shopping trip is in order, unless I can pay better attention during my other grocery stomps.
It was interesting to head back to my pre-coupon stomping grounds. Previously, Walmart and Costco are where I did all my grocery shopping, including toiletries and meds. At $9600 a year, I bet they miss me. I nearly choked on the idea of spending $2.97 for a bottle of shampoo!
Sticking to my $100/week budget, I spent $62 at Walmart, saving $10 by using coupons. I took all five children at 5 pm. Hmm….how wise was that? Aside from ripping into a package of string cheese five minutes into the trip, we did okay. It helped that FishPapa met us there when he was done with work. He took the kids to go look at the goldfish and to study all the different kinds of cat food (we don't have a cat!) so that I could check out with all my brain cells functioning. I highly recommend going grocery shopping on. your. own.
While you have to be very careful at club warehouse stores, Costco has great prices on cheese, tortillas, bread, and milk, items that I don't usually have coupons for. Again, my fantastic hubby saved the day by doing that stop on his way home from work. We spent $30 on those items. If I had gone, foodie that I am, I would have been tempted by all sorts of wonderful, expensive gourmet food items. Someday, when I'm living like no one else, I'll be shopping exclusively at Costco. 😉
The end result? I've got what I need for the next week, but I sure didn't get the same satisfied feeling that I get after a screaming coupon deal. Oh well. It was a little less wear and tear on my body since I went to 1 stores instead of 5. That is a savings that I can't really measure.
Playin' the Drugstore Game
But, I had to get my coupon fix somehow! Since I have a huge credit on my Walgreens card, thanks to last month's rebates, I couldn't pass up making use of the $10/30 coupon for Friday. Here's what I did: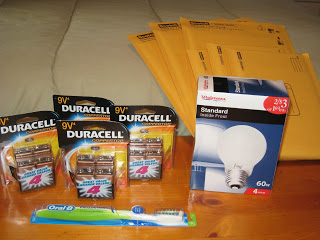 4 packs of batteries @ 8.99 each = 35.96
Oral B toothbrush = 4.99
lightbulbs = 1.69
bubble mailers 6 @ $.33 = 2.00
Total = 44.64
Minus $10 coupon
Minus $3 Duracell coupons
Minus $1 Oral B coupon
Paid $34.64 on gift card
Will get $18 back in rebates
Total cost for above items $12.64

I also made two final trips to CVS to wrap up the end of the week/end of the month deals. Earlier in the week I went and did the nail polish and Playskool deal. To make use of some great coupons they sent me via email and to try the diaper deal again I got the following: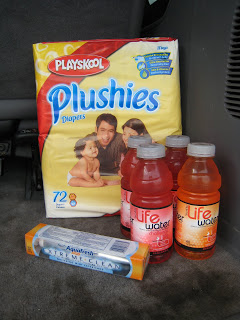 Diapers 10.99
Aquafresh toothpaste 2.99
SoBe life waters 4 for 4.00
Subtotal 17.98
Minus $3/$15
Minus $3/10 CVS products
Minus $3 Playskool coupon (came via email)
Minus $1.50
Minus $2 for SoBe BOGO coupon
Paid $5.48 + tax in ECBs and cash ($.78 OOP)
Got back $2.99, and $2.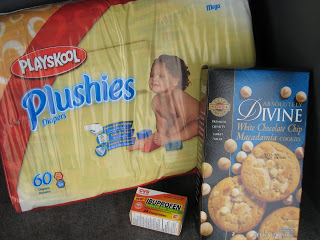 Diapers 10.99
Cookies 1.99
CVS Ibuprofen 3.39
Subtotal 16.37
Minus $3/$15 coupon
Minus $3/10 CVS products coupon
Minus $2 Playskool diapers coupon
Minus $1 CVS cookie coupon
Paid $7.37 in ECBs and cash ($.40 OOP)
Got back $5 in ECBs
Notice I only spent $1.18 in cash for both transactions. Whoo hoo!
For more great ideas about saving money at Money Saving Mom.