There are several good things about the coming of Memorial Day.
My birthday is right in the thick of it. As a child I didn't appreciate the holiday that drove all my friends to vacation rather than to my birthday party, but today I'm good with it. People are a little more relaxed, always a good thing.
It's a fantastic excuse to grill. Since steak, mushrooms, and potatoes are one of my favorite meals, the timing of the holiday and my birthday coincide very nicely.
The sales on meats and BBQ/picnic items are great. So, I stocked up!
In honor of my birthday, I did raise my food budget for the week. We are trying to cut back wherever possible, so "doing it up big" is not something I want to do on my birthday. Instead, I bought all the fixins' for a super yummy meal: steak, mushrooms, potatoes, salad, garlic bread, lemonade, and chocolate cheesecake. I also stocked up on ice cream sundae ingredients as well as BBQ/picnic items. While I went over my allotted $100, much of these purchases should offset the next couple weeks.
Here's what I got for my $135: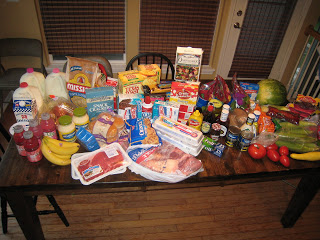 Here are some of the highlights:
Sobe Life water = free
360 Colgate toothbrush = free
Orville Redenbacher microwave popcorn .18
sweet corn 4/$1
baking potatoes .50/#
Daisy 24-oz. sour cream $1.87
Philly cream cheese 1.46
Jet puffed marshmallows .87
Mrs. Cubbisons .88
Mt Olive hamburger dills .97
Hefty paper plates .99
Eggland's Best Eggs .78/doz
Reddi whip topping 1.33
Eskimo Pie Nestle ice cream novelties .99
Smucker's Ice Cream Toppings .80
New York Brand Texas Toast or Pizza Dip 1.19
Pillsbury Brownie mix .28
Ken's dressings $1.16 each
Kraft salad dressings 1.66 each
Hellman's Olive oil mayo 1.56
Sweet Baby Ray's BBQ sauce = free after coupon
Cattlemen's BBQ sauce .13
French's Mustard = free and .29
Dole 7-lettuce or tender garden salad mix $1 & $1.45
baby carrots .97
braeburns .99/#
frozen taters 1.50
sirloin steak 3.99/#
brisket 1.49/#
zucchini and yellow squash .99/#