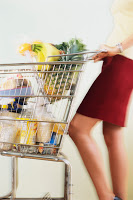 I mentioned Saturday morn how dismal sales had been lately. Waahh! Well, just when I thought my voyage in couponing was coming to a close, the tide has turned. You'd think I had won the lottery, I was so excited. What a geek I am!
I did a little sneak peeking over at Hot Coupon World and found that good deals are to be had at both Walgreens and CVS in the next two weeks. I also found out that the binders I thought were such a great deal at Wags are going to be a better deal this week and even better the following. So, I took them back and will rebuy them at a lower price. I realized that in taking a break from my research, it's possible that I've missed out on other deals. But, all in good time.
FishPapa and I agreed that we will expand our budget a little more to allow more elbow room for stockpiling. I certainly don't need a year's worth of food, but seriously, I can see all the shelves in my pantry. So, time to get creative and invest a little more time, esp. as a new baby is coming and y'all know I shouldn't even get out of my pj's for the first two weeks!
Anyway, check out the CVS and Walgreens forums over at Hot Coupon World, if you're a grocery geek like me.
So, this week I've got a little shopping to do. I'll be combining all of these with coupons so I should come close to breaking even after ECBs and Register Rewards.
CVS:
Candy, Buy $10, get $5ECBs
Bandaids, $2.99, get $2 ECBs
Revlon makeup, $9.99, get $9.99 ECBs
Intuition razor $3.99 (minus $4 coupon)
Buy $20 Johnson & Johnson, get $10 ECBs. I have some great Stayfree coupons to use with these.
Walgreens:
Olay, Aussie, Herbal Essence, etc, Buy $20, get $7 Register Rewards
(monthly deal) Buy $10 Hersheys, get $5 mail-in rebate
(monthly deal) Buy $12 Mars Dark chocolates, get free movie ticket, up to 4 tickets