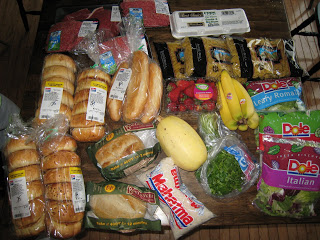 I've had to put the brakes on stockpiling for awhile. Since we're moving, space is at a premium, and I don't want to ship things that aren't really worth their weight in gold. I am taking most of my currently stockpiled items (toiletries, etc.) but figure that unless it's going to be consumed before or during the trip, it's best not to add to the stash.
That said, it's a little hard to judge how much we really will consume in the next two weeks (2 WEEKS??!!) prior to liftoff.
I made a few outings for necessities and good deals this week. The best surprises were at Price Chopper.
It pays to keep your eyes open!
Pay attention for marked down items. They are not "bad," just items that the store wants to push so they don't take a loss on it when it is past its "sell by date." I have found great deals on produce, dairy, meat and bakery items. So look for these items next time you shop.
I found all-natural, hormone-free, locally raised beef marked down half price. This made it cheaper than the sale hamburger I had planned to buy. If we weren't moving, I would have bought all they had.
Also found bakery rolls (subs, onion rolls, sandwich rolls, gourmet breads) marked down to $.25 and $.49. So I bought two weeks' worth and have them stashed in the freezer. (Both the beef and the breads still had time before their "sell by" dates.)
Aldi – I wonder if I will miss Aldi. They aren't on the West Coast, though we do have Trader Joe's. I wonder if TJ's deals can compare. Anyone? Anyone?
Anyway, Aldi had dairy and fruit on special this week, so I stocked up on those items.
Target – Luvs diaper deal: 2 family packs @ $15/ea minus $5 manu. coupon, minus $1 manu. coupon, minus $2 Target coupon, minus $1 Target coupon, minus $5 gift card earned for the purchase = 170 diapers for about $17.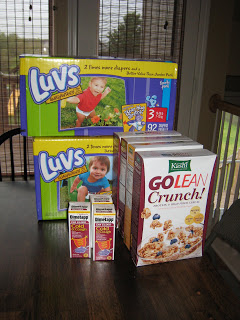 Kashi deal: 4 boxes Kashi Go Lean crunch for $11 minus $2 manu. coupon, minus (3) $1 manu. coupons, minus $5 gift card earned for the purchase = $.25 for each box of cereal. Remember my cereal rule? (I'm going to go back to take advantage of this deal again and the waffle deal.)
Walgreens – Went for free children's Dimetapp. Will possibly go back before closing on Saturday to take advantage of this coupon. I would pick up more free cold meds and "the free after rebate" items. But, then, they probably aren't consumable before we go. I have a date with a cup of coffee and the ad this morning.