Grocery Geek & The Pantry Challenge
We are a participant in the Amazon Services LLC Associates Program, an affiliate advertising program designed to provide a means for us to earn fees by linking to Amazon.com and affiliated sites. We participate in other affiliate programs as well. For more details, please see our disclosure policy.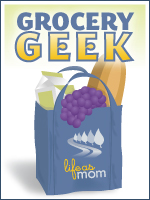 The grocery geek is back! Did you miss me? The first six months of this year were pretty crazy as I was shopping and cooking with recipe development in mind. Coupons and deals kind of sat on the back burner. So, I didn't share much of my shopping escapades.
I'm back in the saddle again, actively seeking great food at great prices. However, this month instead of shopping like a fiend, I'm challenging myself to make the most of what we already have. Since I spent the first half of the year "cooking to freeze," I've been finding all kinds of treasures in my deep freeze. So, I'm doing a pantry challenge.
Every January for the last couple years I've devoted my energies to going through the freezer, pantry and cupboards and using those things first. This month, I'm tackling it from a summertime perspective. I'm not setting a price limit on myself, but just trying to look to my food stores first before just buying whatever is on sale.
For the curious, you can read up on my Summertime Pantry Challenge or see the play-by-play of how I'm making it work.
Shopping
At the beginning of the month, I did make a few stops to take advantage of the seasonal sales:
I ended up getting fresh berries, ice cream, mustard, canned corn, canned tuna (not pictured), pasta (not pictured), whole chickens, and sausages at rock bottom prices. But since then, I've been trying to make it work with what we had.
After several days with no milk, I ventured out to buy some basics: fresh produce, dairy, and must-haves.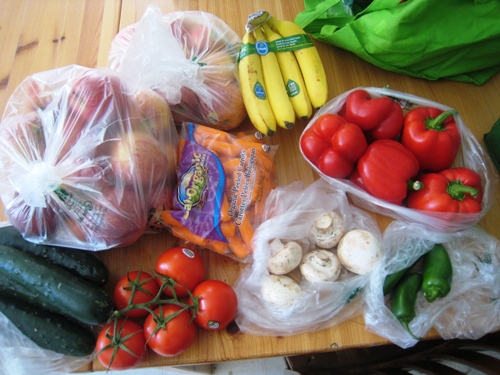 At Henry's I spent about $24 on the produce pictured above, including organic apples, carrots, and bananas, as well as conventional cukes, tomatoes, peppers, jalapenos, and mushrooms.
Then I headed to Walmart for a few basics to round out our meals: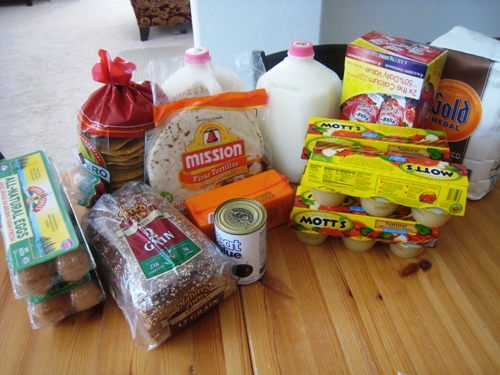 I spent $44 on milk, bread, olives, yogurt, flour, applesauce, eggs, cheese, and tortillas/tostada shells. These will really help me make the most of what I already have so that my family doesn't really know that we're "eating from the pantry."
Please remember I am feeding 8 people, including 4 growing boys. So, while these purchases may seem like a feast to one family, I'm not sure that they will last us more than a week. But we'll see. So far, this month I've spent $273, less than half of what I normally spend. So, I think we're going to do pretty well.
(Note: That figure does not include food costs incurred during our weekend away with the grandparents. Vacation is a free zone.)
Come by tomorrow afternoon to check out my menu plan where I divulge what I'm going to do with what we've already got.
Found any great deals lately?