This has been an unusual week for me. I was sick all by myself. Unheard of in our house. Usually, I get it on the tail end of everyone else getting it. FishPapa was home three days out of five due to holidays/vacation days. And, I ordered groceries online and had them delivered.
Yes, it's true.
In the junk mail over the weekend I found a coupon for Vons' (a Safeway store) online grocery shopping. I didn't think much of the promotion codes because, C'mon, certainly online shopping is for the rich and famous. But a few days later I saw a truck with the words, "Same great prices." That got me thinking. One of the coupons on my postcard was for free delivery. Hmmm…. A look at my Vons list told me that most of my items were for loss leaders without coupons. Maybe I'd let my fingers do the shopping….
So, I did. About 10 minutes online got me an account and a cart load of groceries in my "virtual cart." Later that day, the delivery man not only came to the door with 2 turkeys, 5 roasts, 12 pounds of sugar, 50 pounds of flour and a partridge in a pear tree, he also carried all that to the kitchen for me! That was worth the $1.20 I sacrificed in not being able to use my two coupons. I saved gas money, hassle, and a few trips to the van.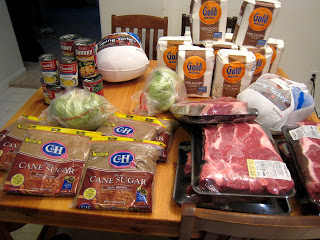 And the deals were good.
5# bags of flour $1.50 each
2# bags of brown sugar $1.69 each
roast $.97/#
turkeys $5 and $7
iceberg $.67
cream soups $.80
Chunky soups $.19 (after online promotion code)
There was one glitch. The roasts had a limit of 3. I ordered 5 out of ignorance. The limit was not declared in the online store. I called because I wasn't aware of the limit. We figured out the problem, and I was originally advised to take them back to the store. But, wait a minute! The point was to avoid the store. If I'd gone to the store in the first place, I would have seen a sign with a limit. The "virtual store" had no such sign. I explained this and so, they gave me the added discount. (It probably helped that I said I planned to blog about this adventure….)
The only other casualties were one bag of flour has a hole in the bottom and one package of roast had a small tear. I imagine that this was due to their trip in a big, bouncy truck.
I could definitely see using this service in the future, especially if it was a crazy week and the sales were ripe. I've heard that they often send free shipping codes. And if I'd been thinking I would have ordered through Ebates for an extra $5 back on my order. Unbelievable. One twitter friend mentioned she uses this service when her Navy husband is deployed. Great idea! I think if you keep your eyes open you could definitely make this service work for you, especially if your time is better spent doing other things than schlepping through the store with a full cart.
This week was a perfect time to try it since everything I ordered was a great deal. (Otherwise, I probably wouldn't have even tried it.) Vons limits their coupon use and doubling, so using coupon sthere is always pretty tricky anyway. Yes, I could have saved a little more making a few different trips, but the gas alone probably would cost the same as the coupon.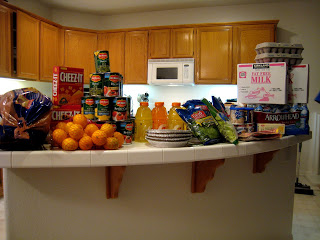 In other news, I did head out to Stater Brothers and Ralphs while FishPapa made the necessary milk stop at Costco. This week proved to be such a great stockpiling week, I think I'm taking most of next week off. Some other highlights:
10# potatoes $.99
5# clementines $3.99
cheez-its $.75
Gatorades $.50
canned vegetables and tomatoes $.30/each
bagged salad blends $.50
frosting $.90
sweetened, condensed milk $.96
graham cracker crusts $1.19
bacon $2/#
case water $2.99
eggs $1.77/18 pack
milk $1.40-$1.60/gallon
butter $1.99/#
What kind of grocery deals did you nab this week?