Consider grocery shopping via Amazon as a way to save money and stay out of the stores.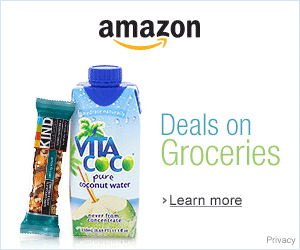 I can't remember when I actually started ordering household goods and toiletries off Amazon, but it's been an interesting endeavor. It was either Mandi or Mara who posted about their Subscribe & Save program where you get an extra % off when you order things o a regular basis. So, I started experimenting.
Now, all our toilet paper comes from Amazon, and we never run out.
I've stocked up on loads of grocery items that I regularly use like popcorn, steel cut oats, and wheat germ. Since I'm working on improving our family's diet, I'm currently awaiting a load of whole grain flours to show up. These are usually 4-unit cases which means I store the extra in the freezer to prolong its shelf life. The prices are lower than what I pay at the store.
FishBoy16 is pretty attentive to his nutrition. He has a monthly budget to spend on protein powder and weird things to put in his shakes, like chia seeds. I think it's kinda funny that he is healthier than me in many ways.
You can currently find all kinds of great deals on healthier grocery items on Amazon. Save up to 25% off healthy food items.
Do you buy groceries from Amazon?