Guest Post: One Mom's List of Happy Things
We are a participant in the Amazon Services LLC Associates Program, an affiliate advertising program designed to provide a means for us to earn fees by linking to Amazon.com and affiliated sites. We participate in other affiliate programs as well. For more details, please see our disclosure policy.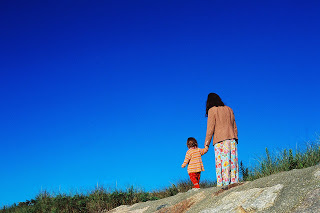 Special thanks to Jennifer for preparing today's post.
I love being a mom. It is something I dreamed of since I was a child myself. I remember trying to figure out how long it would be until I could have kids of my own. Of course, as a girl, I thought I would be right around the ripe, old age of 20.
As it turned out, I was nearly 28 when I had my first child, but she was worth the wait! Now, that little girl is 7 and she has a 5-year-old brother and a 3-year-old sister.
I won't pretend that actually being a mom is just like I dreamed it would be. It is hard work! Sometimes I grumble. Occasionally, I break down. However, I realize just how happy being a mother makes me when:
1. we are all snuggled up in my over-sized chair with a good book.
2. we are walking to the bus stop and all of a sudden I feel a little hand in mind.
3. we are gathered around the table for dinner and someone shares about their day.
4. one of them comes to tell me how they shared their M&M's or fed the dog without being asked.
5. we sing our favorite CDs together while driving to town in our van.
6. we bounce together on the trampoline and then land in a heap in happy exhaustion.
7. every birthday or holiday is a celebration of the memories we are making together.
8. I see one of my children being kind or compassionate to another living thing.
9. I walk into a bedroom and see all 3 playing together on the floor.
10. I hear the word, "Mommy"!
— Jennifer Tankersley is the creator of List Plan It, which has over 350 printable lists and planning pages to help you put your home, family, and business in order. She is also the creator of List Mama Blog: lists for list-lovin' mamas and 100 Days to Christmas which provides a daily dose of inspiration and motivation to help you prepare for the busy holiday season.