Upon our most recent move, our local disposal company told me that I could have as many recycling barrels as I wanted — for free. Trash barrels are extra. Hmmm…. You can bet that I learned to recycle before you could say, "Save the landfill." We now sort out all cardboard, plastic containers, and paper for the recycling and our only "waste" is plastic wrap and food leftovers. The added benefit is that I know that we're doing our part to make things a little better.
Here Katie offers a number of great suggestions for reducing waste in the kitchen.
Reducing the amount we throw away in the kitchen has always appealed to the frugal side of me. Whether you want to reduce your kitchen waste to keep our landfills low or whether you'd just like to save a few bucks off your grocery bill, I have some tips for reducing what is thrown away from your kitchen each day.
* Plastic containers and bags – I'm in a stage of life where I often bring meals to new mommies or friends who have had surgery. It would cost me a small fortune to purchase the expensive disposable containers to bring them their food. Personally, I try to avoid bringing a dish that needs to be returned…less hassle for the recipient. Instead, think about the plastic containers you might otherwise toss. Give them one more use before they are sent to the recycling center. Cool Whip or large margarine containers can hold soup, salad or sauces; bread bags can transport rolls; even many restaurant to-go containers are sturdy enough to clean out and reuse.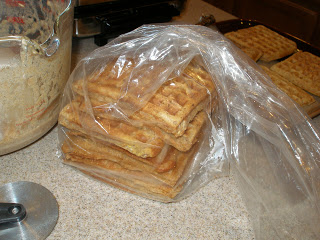 * Bread and tortilla bags – I found this idea in blogland somewhere and have used it ever since: I reuse a bread bag to store extra homemade waffles in the freezer and tortilla bags to store extra pancakes. The bread bags are the perfect size for my square waffles, and saving a tortilla bag for the pancakes saves a large Ziploc bag.
* Leftovers – There are many ways to repurpose leftovers without duplicating the exact meal twice. Throw extra pot roast or taco meat into chili; cut up leftover turkey and chicken breasts to use in a casserole or pot pie; toss veggies that are about to go bad into a soup. Flat cola makes a good marinade in the crock pot for pork tenderloin and beef; the heels of bread can be blended into bread crumbs or cut up and made into croutons…the possibilities are endless. Get creative!
* Use real towels, not paper – I keep a decent supply of kitchen towels for spills and to dry our wet hands instead of using paper towels. I also repurposed our smaller baby washcloths for wiping hands and faces after meals.
* Reusable grocery bags – A wise 16 year old bag-boy recently suggested that reusable bags pay for themselves. Several of my local grocery stores take off 5 cents per bag from my grocery bill. While 5 cents won't make me rich, it only takes 20 grocery trips to pay for each of my $1 reusable bags. I also use small, mesh, zippered laundry bags (intended for "delicate" items) for produce. You can find them at many $1 stores or on Etsy. Personally, I bought them out of necessity because I buy my produce through a co-op, but they've proven to be handy when buying from the grocery store, too.
* Buy in bulk and create your own "snack sized" portions – The newly popular "100 Calorie Packs" are more expensive because the manufacturer takes the time to portion the food for you. Save money by doing it yourself…use those tiny Tupperware pieces to toss a snack in your child's lunchbox or in the diaper bag for a day at the park. Smaller plastic containers (think margarine) also work well if you don't have small enough Tupperware pieces, but if you're trying to go green, avoid using Ziplocs storage bags, when possible. With a few up-front purchases, you can easily reduce the amount of trash you collect from your kitchen each week.
Have you got another trick to reducing kitchen waste? Share it in the comments!
Katie is a Christian wife and a stay at home mom to a 4 year old son, a 2 year old daughter and she is due with Baby #3 in October. She blogs about managing her family, frugal living, cooking, organizing and all things homemaking at Three Blondes and a Redhead.