Today's guest post is from Shannon who shares how they transformed much of their everyday to more environmentally sensitive ways of living.
This is meant to be read as one mom's story of what works. As with all these green posts, my hope is that it'll get you thinking, inspire you, and encourage you to find out for yourself what's best for your particular situation. Some of the issues Shannon mentions are complex and at times, controversial, so please take the time to do the research necessary to educate yourself.
I haven't always been the "greenest tool in the shed". Two years ago it took a life-altering experience with cancer in our little family that opened my eyes…literally overnight. I quickly graduated from the "University of the Internet" with a plethora of information on organic living and eating, trying my darnedest to somehow prevent this terrible disease in my children, my husband, and myself. (You can read my primer on healthy eating here.)
Originally I was motivated purely on the grounds of healthy living, but then I saw the bigger picture: we need to take care of our earth in order for our children – and their children – to have a healthy future.
One day my cupboards were sporting a number of snacky meals laden with gmo's (genetically modified organisms), pesticides, and un-natural ingredients, and the next…the cupboards were bare.
Until I made it to the local health food co-op.
The same goes for our bathroom cabinets, laundry closet, cleaning supplies, and soon afterward, our entire home. You see, I always knew there were harmful chemicals in our cleaning supplies, but that was as far as I knew. I never knew what those additives were or what they could do to our health.
Many of us are using or have everyday items in our homes that can be potentially toxic, cause serious health issues, and are harmful to our environment.
Here are some examples of common chemicals hiding in our cleaners, solvents, finishes, and paints in our homes: formaldehyde, hydrochloric acid, sodium hypochlorite, petroleum solvents, and sodium acid sulfate. Some of the problems associated with these chemicals are skin irritations, nausea, headaches, nose bleeds, shortness of breath, burns, vomiting, kidney and liver damage, and exposure to carcinogens.
Do you want to clean your home with chemicals that have the potential for that kind of damage? Well, in honor of Earth Day, I hosted a "Green Cleaning Party" for some girlfriends. No, I didn't buy premade kits that are being sold to hop on the "It's Easy Being Green" bandwagon.
I made my own. Here are some natural cleaning agents that I shared at my party and which are a must have for all homes… together they can tackle any household cleaning task: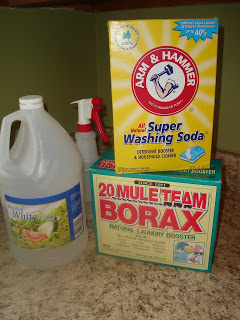 baking soda, white vinegar, lemons, Borax, washing soda, and vegetable oil…that's it!!!
The whole idea of "green cleaning" is to get back to simple living. Many of our grandmothers used Borax, baking soda, and white vinegar! Funny how these items have come full circle and have proven themselves once again!
** 1/4C. of white vinegar in a spray bottle filled with water is a fantastic window cleaner and great on mirrors! (Can't stand the smell of vinegar?? Mix in a drop of your favorite essential oil, and the problem is solved!)
** Baking soda on a sponge when used with a little water is great for tubs and sinks!
** I use 1 cup vegetable oil and 1/2 cup lemon juice mixed in a spray bottle for an instant furniture polish, and to touch up dull spots on my wood floors.
** Did you know that conventional dishwasher detergent contains bleaching agents? I therefore use an organic detergent or make my own using 2T. Borax and 1 1/2T. Baking Soda (just put in the dispenser and run as usual).
Did you know that even our paints contain dangerous chemicals and can emit these gases over many years? Traditional household paints contain many chemicals, including volatile organic compounds (VOCs), which are a large group of carbon-based chemicals that are volatile, meaning that they like to exist as a gas. Traditional household paints generally contain many VOCs, including benzene, formaldehyde, and toluene. Some of these have been linked to eye, nose and throat irritation, nausea, headaches, and even cancer. These conventional paints can cause people living or spending time in freshly painted homes to have exposures to VOCs that are much greater than normal, as much as 1000 times greater. So what's a family to do??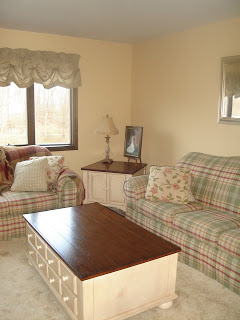 Well, in our home we painted each room with a no VOC paint. Most colors are available in no or low VOC paints. The only difference we noticed using no VOC was the paint was thinner and therefore needed a few extra coats. This is because the VOCs act as thickening agents in conventional paint.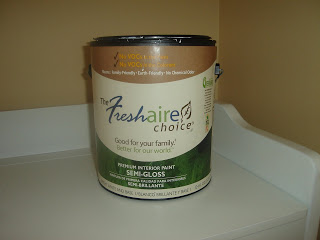 But, the extra effort was worth it for our health and our environment. I'm not saying to go and repaint your entire home immediately, but keep these findings in mind when you go to redecorate in the near future. Greenseal and GreenHome are two sites you may want to check out for more information on non-toxic paints and green living.
Unable to make the changes right now? Don't fret…here's a simple quick tip: Invest in some houseplants for cleaner air in your home. Go here for the Top 10 list.
Another hot topic on the green energy diet is the light bulb. The light is still "out" about Compact Florescent Bulbs (CFL's)…there are many pro's and cons to these "Energy Star" bulbs. When they first came out they were dubbed "the lightbulb to change the world," and we replaced every light in the house with one. We used them for about six months (and did not see a dime of difference in our electric bill by the way…) until my little one knocked over a lamp and the bulb popped and shattered.
Well, let me just say, the measures one must take to clean up this mess was very concerning. These bulbs literally explode all over, and as a result, you must air out the room, use duct tape for the dust and glass fragments, and must not use a vacuum because of the mercury. This in itself is alarming. (Read here for more on CFL's). They have also been linked to migraines and seizures (both of which we have in our family). So, we have gone back to conventional bulbs for the time being. The verdict is not yet in, and Congress is still under discussion as to their safety. If you use them and they are working out for your family, great! Just be mindful of the disposal safety and precautions should one break.
After all of this stress and worry about the toxicity of what's around us, one can de-stress with a luxurious organic do-it-yourself spa treatment: For an alpha hydroxy mask, puree together 2 chunks of fresh pineapple, 2 teaspoons of honey, and 2 teaspoons of extra virgin olive oil and apply to your face. Leave on 5-8 minutes and rinse.
Or, for a refreshing, rejuvenating feel to get you on your way to a greener, healthier life, make the Apple Zinger Face Mask. Grate 1 medium apple and mix it with 5T. of honey. Smooth it on your face and leave it on for 5-10 minutes. Rinse off with warm water. Ahhhh…..
There are books upon books written on the subject of cleaning your home and your body for pennies. The benefit is not only saving your money, but keeping your home nontoxic. This is so important for those of us with small children, but equally important for those who don't. These chemicals are polluting the very environment we are trying to clean! Think about what you are doing, and do it with a purpose!
— Visit Shannon at The Cozy Country Home to learn more of her thoughts on organic cooking/eco-friendly tips, recipes, menus, crafts, decorating and entertaining ideas, and being good stewards while trying to do so on a budget.