For the last month, I've been participating in an experiment called Project Laundry Line. Sponsored by Seventh Generation Laundry Detergent and My Blog Spark, this challenge has prompted me to wash all our clothes in cold and line dry them for a month's time.
Do they know how many loads of laundry a mom of six children, four of whom are boys, has to do in a given week?
Whew! I'm tired. But, I'm sticking with it 'til the end — which is in 2 hours and 52 seconds. Not that anyone is counting….
I've come up with a system. Instead of doing laundry every day (my old habit), I now wash clothes twice a week. As you saw in my vlog a few weeks ago, I set up the portable laundry line in my hallway, right outside the laundry room and my bedroom. Right where I can't miss it.
You see, I've been known to forget the wash outside, and so this method is working in my efforts to avoid rainy cloudbursts and swarms of killer bees.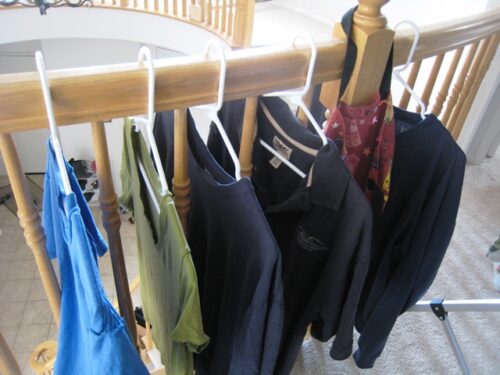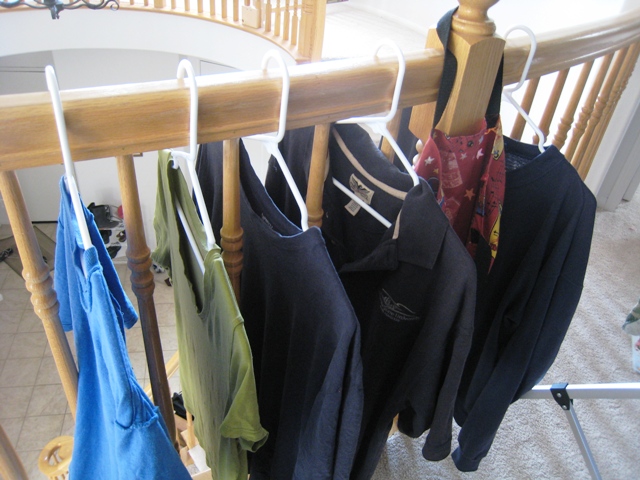 New Routine
Washing clothes in cold water is nothing new to me. I've been doing that for the colors for quite some time. I have adapted this challenge to fit our family and my comfort level by washing whites and towels in warm instead of hot, and using just a splash of bleach in both for disinfectant purposes. (If I were drying the clothes in direct sunlight, I could opt out of the bleach, as sunshine has a natural disinfecting power.)
The line drying has thrown me for a loop, though. A few weeks ago, I sorted through my kids clothes and took a lot of clothes away from them. I found one ten too many sets of CLEAN clothes in the dirty hamper because "someone" was too lazy to put it away. So, they were weaned down to five shirts and five bottoms.
Yes, I'm a mean mom.
But, I'm even meaner when I have to do the same work twice. So, they have fewer clothes which both helps and hurts this line drying thing. There are fewer clothes to wash in general which is a beautiful thing. Yes, yes, it is.
But, if someone is truly out of clean clothes, well, he's stuck. It will take half a day to remedy that dilemma without using the dryer. I haven't resorted to using the dryer yet. However, I know long term, that would have to come into play.
In the meantime, they're learning the true meaning of sharing.
Impressions Now that It's Over
Check out my latest vlog for some more thoughts on how this challenge went.
Interesting Facts about Laundry, Cold Water Wash and Line Drying:
According to Seventh Generation and My Blog Spark,
90% of the energy used when washing clothes is used for heating the water.
The average household can save up to $25 per month off electric bill by line drying.
Sunlight bleaches and disinfects
Getting out of hot water can save you money—as much as $70/year on your energy bill.
Laundry that's cold water washed and line dried lasts longer, helping to protect the environment and your wallet.
I think one month is too soon to see a big difference in our energy and water usage, but I like the idea of using cold water and line drying as it fits into the scheme of our household.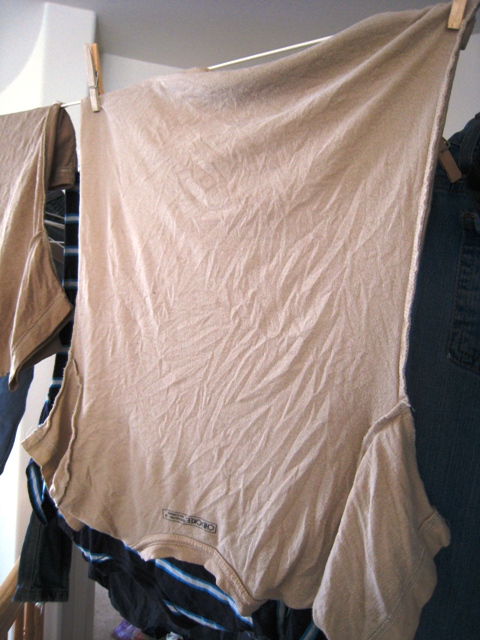 Try this at home!
This week I have another great giveaway. One person will win a Project Laundry Line Kit which includes a bottle of Seventh Generation Natural 2x Concentrated Laundry Liquid, a portable laundry line, clothes pins, and a laundry basket.
Simply leave a comment on this post, telling us how you do laundry at your house. (Click through to this post if you are reading this in an email.
Giveaway will be open until Sunday night at 8 pm, PST. Winner will be chosen at random and notified via email. If winner does not respond within a 48 hours of notification being sent, a second-chance winner will be selected.
This giveaway is closed. Congrats, Alicia.
Disclosure: Seventh Generation and My Blog Spark provided me with a "Project Laundry Line" kit that included Seventh Generation Natural 2x Concentrated Laundry Liquid, a portable laundry line, clothes pins, a laundry basket, and a Flip camera to record my experience. I was not compensated in any way for participating in this challenge or offering this giveaway, nor was I required to do so. My opinions are my own. For more information, please see my disclosure policy.