Happier at Home (Booking It: November Update)
As an Amazon Associate I earn from qualifying purchases. For more details, please see our disclosure policy.
Booking It is an online book club where we discuss what we've read over the past month as well as review a monthly assigned book. This month's book is Happier at Home by Gretchen Rubin.
(Heads up: if you make a purchase through any Amazon links in this post, I do receive a small percentage of the sale.)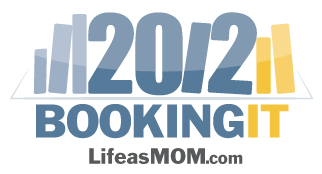 When last we left our fearless readers, I had given up on Les Miserables for a season. Instead I turned toward the next month's readings and some lighter, though still important, fare. I'm pleased to report that I put away four books in the last month!
I guess it shows that what you put on your plate has some effect on how fast you chew. And how much you enjoy your meal.
Let's just say that I've been eating well! I enjoyed all four books that I read since we last talked. And I've got a few more on my plate for the remainder of the year.
Speaking of the year coming to a close, I'm wondering if y'all are getting a little burned out on assigned reading. Unless there are significant numbers of you asking for reading suggestions, I just might omit that part of the program in 2013. So, give it some thought, eh? Let me know.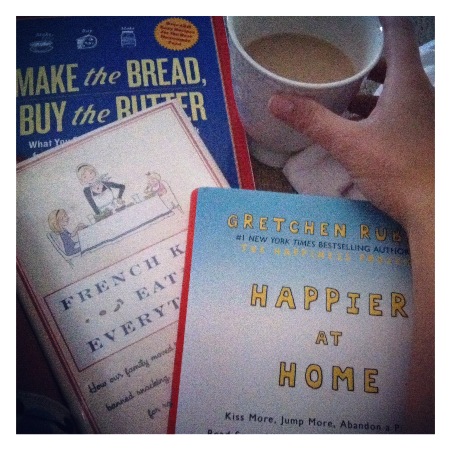 So, here's the lowdown on my month's reading.
Happier at Home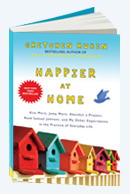 I tackled Happier at Home first because I certainly did not want to show up to class unprepared twice in a row. I'd requested a review copy, so it was nice to have it ready and waiting for me. I didn't need to stand in line at the library or anything. I really enjoyed the book, the sequel to Gretchen Rubin's Happiness Project. It wasn't the "life changing" book that her first book was for me, but it resonated with me on a number of levels.
It made me think about making our home more homey. I rearranged some furniture, made a better effort at the pre-bedtime pick-up, and overall gave my home the once over to see what we can improve to make home even better.
This book was in many ways a refresher course in The Happiness Project. I was reminded to be more intentional about my home and life and how I spend my time. I enjoyed the book immensely and found that it gave me a good burst of encouragement.
Make the Bread, Buy the Butter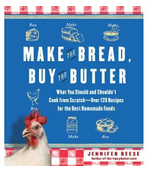 Several of you mentioned the book, Make the Bread, Buy the Butter as being helpful to you in your cooking and shopping. So when I was sent a review copy, I knew it would be time well-spent.
I devoured this book, like so much fresh baked bread and butter. I found it to be an extremely interesting analysis of what you should buy and what you should make yourself — when it comes to food. In a sense it was a lot like Anne's Buy or DIY? flowchart.
That said, I disagreed with the author on a number of points. Seeing as we're both native Californians, I found this additionally interesting. But, Jennifer Reese grew up in Northern California while I am a Southern California girl. And that has made all the difference.
She says buy your burritos, make your Chinese food. I say just the opposite. Asian influences are prevalent in the northern part of the state while Latino influences are strong here in the south. 'Nuf said.
Despite our differences of opinion, I found the book fascinating. She has tackled some culinary projects that I would never dream of attempting, like making homemade cheese and prosciutto. More power to her!
Did I mention that she is hilarious? She's not afraid to mince words — or use what some might consider profanity. But, it's not overdone like some food bloggers-turned-writers-that-I-can't-read-even-though-their-book-was-made-into-a-movie. #justsaying
French Kids Eat Everything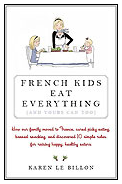 French Kids Eat Everything by Karen Le Billon was another recommendation from you smart people. By the time I heard the name three times, I was in line at the library to get a copy. Oh la la, did this make me think.
La Famille Le Billon, composed of a Canadian mother and a French father and two young children relocated to France for a year. There mom learned how much she had spoiled and coddled her children. They were fussy eaters and sorely out of place among their French classmates, cousins, and friends.
What resulted was Maman's efforts to understand French culture, and specifically, how they get their children to eat a wide range of foods.
While I've never considered my kids truly picky, I know that their tastes have grown a lot since we started getting a weekly produce box. Though we've come quite far in expanding our culinary horizons, this book helped me see that we still have far to go. The author identifies 10 "rules" that the French live by, sometimes unconsciously. I think that all of them serve as great guidelines toward helping us and our kids have healthy attitudes about food.
I feel like my eyes were opened a bit. I have some things to work on in my family's diet, but I feel well-equipped to do so, thanks in part to this book.
Love Does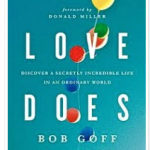 I first heard about Bob Goff in a book I read last Christmas, A Million Miles in a Thousand Years. THAT book is amazing. Author Don Miller mentions his friend Bob in that book. Bob lives in San Diego and hosts a parade down his street every New Year's Day. I wanted to go last year. This year we might.
I ordered the book off Amazon and started reading Love Does on our fall vacation in September. I had heard good things about the book, but mostly wanted to find out more about this crazy guy named Bob.
Yes, crazy. He answers my tweets and gives me his email address. Not only that, he lists his phone number in the back of the book and says to call him if you ever need him.
He's an amazing man with an even more amazing picture of Jesus. It shows in the book. My two oldest sons both read the book along with me. In fact, they finished it before I did. Hubs is almost half-way through. We are inspired by the way that Bob loves people, opens himself up, leaves himself vulnerable. I can't even fathom all that he does. All that love does.
You really do need to read the book. I know I need to change my life based on it; I'm just not sure how.
So, those are my good reads for the month.
Have you been Booking It?
Tell us about the books you've read! If you read Happier at Home by Gretchen Rubin, be sure to tell us what you thought of it.
Check out the list of 12 books that we'll be reading together this year. Next month's book is, ahem, Not Your Mother's Make-Ahead and Freeze Cookbook by Yours Truly.
Disclosure: if you make a purchase through those Amazon links up there, I do receive a small percentage of the sale.