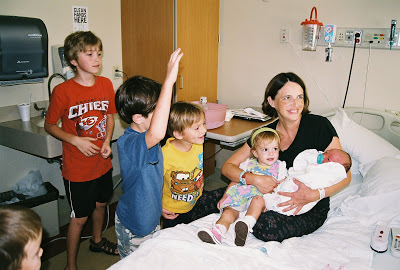 Can you believe it? Yesterday was FishBaby's birthday! My girly is already one year old! The time has just flown by since the day she entered our lives. What a blessing she is to our family.
It's hard to imagine that a year ago she and I were in a hospital room with a fairly serious infection taking root in her eye. She had developed a dacryocystocele in the womb — we saw it on a 36-week ultrasound. No one was really sure at the time what it was, but the sonogram tech guessed that it was a blocked tear duct. In reality it was something similar, just up a few notches. She was born with a marble-sized cyst in the corner of her eye socket, right by her nose. It disfigured her face a bit.
To my hormone-laden brain, she appeared a little like Sloth from The Goonies.
(No, my mother didn't appreciate that comparison, either.)
On our last day in the hospital the Powers That Be figured out what it was and scheduled us to go to the opthalmologist at Children's Mercy. Praise God for His good timing,; the cyst was extremely infected by the time we got there that afternoon. The doc said we most likely would have been in the ER by that evening with a seriously ill baby. The infection would have spread to her blood system. Not a good thing for a 2-day old infant.
I realize that many a parent has dealt with much more serious complications than these. We have been spared much in our twelve years of parenting. I don't take that for granted. At the same time, know that this was my sixth baby and I thought I "had seen it all." Aha! That is not the case. No matter how many children you have, there is always something more to learn.
Like how to spell dacryocystocele and opthalmologist.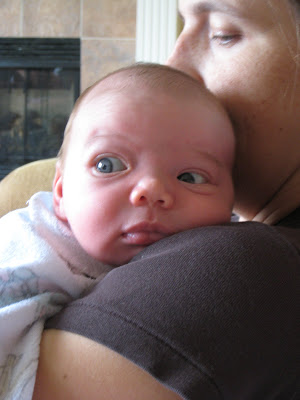 Thankfully, we were able to clear the obstruction and infection within her first month of life and surgery was not necessary. Now, having travelled through twelve months, two thousand miles, and numerous opthalmology and dermatology visits, we've got this sweet, one-year old, toddling little girl on our hands.
She's developing quite the personality, making her desires very clear at midnight, 4, and 6. Not sure what to make of this new night waking, but I know that this, too, shall pass. She recently learned to wave and has perfected it like a beauty queen. Though not quite walking, she is highly mobile, ready to get into any- and everything in sight.
I'm so thankful that what seemed really serious a year ago, what threatened to steal the joy of her birth, is just a faded memory. And a testament of God's mercy toward us.
Happy Birthday, FishBaby!
(Bday photos and cake to follow.)