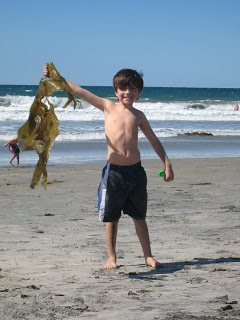 Today one of my boys turns 8! You can read some of his story here. He is our second child, one that we waited a long time to welcome. And what a blessing he is!
J is tender-hearted and compassionate. He is our peacemaker and the one who avoids conflict at all costs. He is outgoing and personable, and can always make a funny face. My life is so much richer with him in it.
On the bday plan for today, per his requests:
Lucky Charms for breakfast
Carl's Jr for lunch
an afternoon of GameCube
Baked chicken, rice, and green beans for dinner
A Pokemon birthday cake (coming soon to a blog near you)
Say a quick prayer for my "big" guy. He went to bed with a sore throat last night, and we are hoping that it is not another virus. The family just got well. Could it be allergies instead of more cooties? Hoping so.