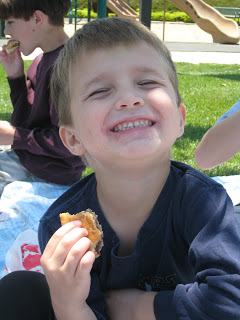 My baby boy turns five today. Oh my!
Even though he's the fourth out of six children, he's my last boy. So, in some ways that makes him my baby. (Shh! Don't tell him I said that.)
But, he is. He's my baby, well, at least my baby boy. It's amazing to see how much he's grown over the years. It seems like only yesterday that we were racing, yes, literally racing, to the hospital so that he could be born in a hospital bed instead of the car.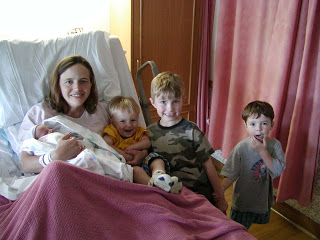 For the record, he was born exactly fifteen minutes after we were clocked in at the ER. The nurse "caught" him. Her name was Joy. That story is here.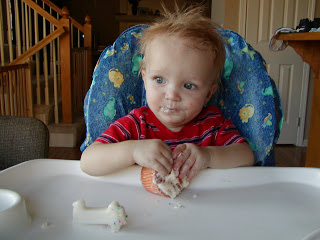 At one he was a rough and tumble toddler, ready to leap tall buildings, couches, and the refrigerator in a single bound. And he knew how to demolish a cupcake.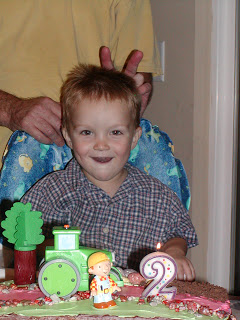 The "terrible twos" weren't terrible at all. He sported that wonderful dimple and a love for Bob the Builder.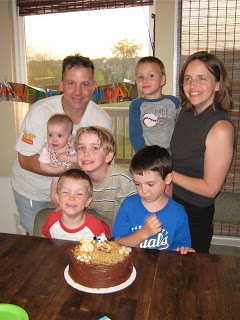 By three he was no longer the baby of the family, but he didn't seem to mind – yet. Star Wars was his game, and he loved to laugh.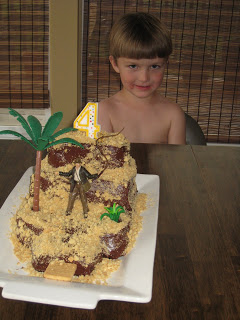 Four years old found him incessantly humming the Indiana Jones theme song, still brandishing a light saber — and that dimple – with gusto.
Today at five he asks insightful questions like, "Why did the Romans kill God?" and "Why did they call it the Field of Blood?" (Yeah, those were doozies.)
He still loves Indy, Star Wars, Bob, and Pokemon, too. He adores his baby sister and has learned to torment "the other one." He's a cuddle bug, and that dimple still melts my heart.
I can't wait to see what the next year holds. I love you, FishBoy 5!
PS I'll be back later with….
dadaduhdah Another Indiana Jones Birthday Cake!