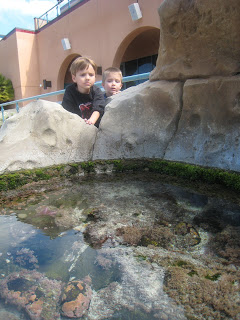 So remember that first
ocean-themed Camp Wannalaffalotta
? Well, for my research I checked out a boatload of books from the library. FishBoy6 has devoured these books since then, particularly
this one
which we didn't get until after the post went up. He's read and drawn and drawn and read and colored and read some more. He tells me all sorts of trivial facts about ocean creatures. Like,
Did you know that some people mistake sea urchins for plants, but they are really animals? They have millions of tiny feet on the bottom of them and that's how they move around.
I did not know that. He's a walking encyclopedia, just like his mama. Today he turns 7. And he's getting an aquarium for his present (Heaven help me!) and he's requested an orca cake (Heaven help me MORE!) And yesterday he requested shrimp for his special dinner! So, it's going to be a whale of a birthday around here tonight.
While we don't do big parties anymore, we do try to get one special present and to prepare the cake and menu of choice for the Birthday Kid. And his interest in things that swim has been so precious. I want to encourage it however I can.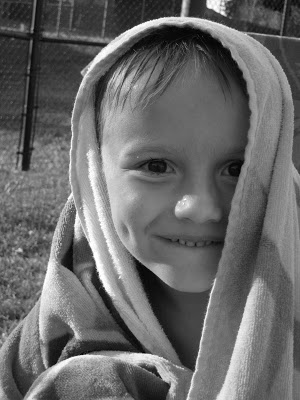 I'm so blessed by this little guy. He was the hardest to birth of all six. At close to ten pounds (9lbs, 10 oz) and very barrel chested, he didn't come too swiftly down the shoot. But, his babyhood was very easygoing. He was all smiles and dimples and just happy, happy, happy.
His 3s and 4s – not so much. Forget the "terrible twos" – it was what followed that was hard for me. He's my independent, tenacious little-almost-big guy. And he's got the strength and the lungs of a lion, despite those puny arms. But, those dimples…. At times I thought they were just a ruse.
But, we have seen such amazing growth in him. He is responsible and kind and the hardest worker I've ever seen. Unless he doesn't want to. Then, he's stubborn as a mule.
He is a joy to us. And we are so blessed that God gave him to us. Happy Birthday, FishBoy 7!