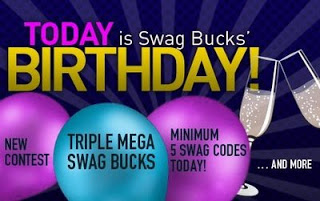 If you haven't signed up for SwagBucks, you should. I just received my first book from Amazon, purchased with gift cards earned by doing something you do everyday, searching the internet. My book was totally free!
You don't shop Amazon? That's okay. There are plenty of other prizes, like Starbucks gift cards. Even if you don't like coffee, you can redeem these by purchasing the Sunday paper to get the coupons.
Today is extra special because in honor of its birthday, Swagbucks is offering bigger and better prizes. What are you waiting for? Sign up today.