This giveaway is closed. Winner to be announced later on Wednesday the 7th.
I hope you all had a great couple holidays over the past week! It went by fast for us. Today FishPapa is back to work and I'm focused on re-establishing some kind of routine around here. December was a wild month for us, tainted with heartbreak, and yet, with our kids around, how could we not smile?
We know that Gramma Ruthie is happy and healthy now with Our Heavenly Father. She is truly Home. While we miss her terribly, we rejoice, knowing that she is, indeed, blessed beyond belief this New Years.
As for us, we have so enjoyed the time spent with our children. Even more than we did a month ago. Witnessing their funny antics and knowing what joy their stories would bring their grandmother has made those moments all the more precious.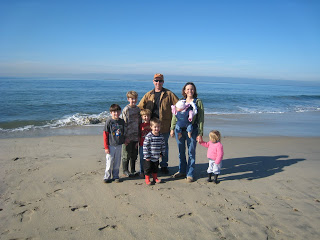 Contrary to other New Years of the past, we spent this holiday at the beach. Yes, it's true!
I grew up in Southern California, yet San Diego is the mildest climate I've ever lived in. And we are loving it! No snow to shovel. No wet mittens and gloves to deal with.
On the morn of the 31st we picked up a dozen donuts and headed to the beach. The kids had a great time splashing in the waves and collecting shells. FishBaby even tolerated the snuggly rather well while FishChick went "offroading" in our jogging stroller. One of the highlights was seeing a dolphin swimming no more than 20 feet from shore. Amazing!
That night we cozied up with our little cocktail party: Apple Sparkly, Garlic Brie-Bread, Grilled Sausages, Veggies and Dip, and a Fruit Platter. We popped corn and watched Wall-E. We also spent hours watching reruns of The Next Food Network Star. (I could definitely get hooked on that channel!)
Then on New Year's morn, after watching a bit of the Rose Parade, we headed — you guessed it — back to the beach! It's true! It was foggy and breezy, not as nice as the day before, but that didn't stop the FishBoys from jumping right in. They are crazy!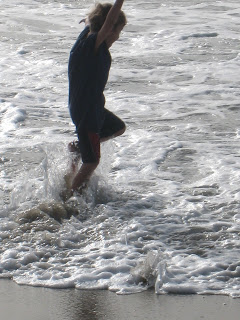 I was chilled to the bone in my hoodie and appreciated having the umbrella, not for shade, but for a windbreak.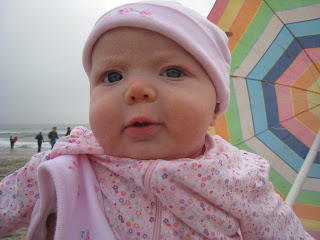 Some of my boys, however, were half naked! But, the photos do speak a thousand words, they had a great time. And they were quick to thank us over and over for bringing them. The Lord made a good thing when He made the Beach.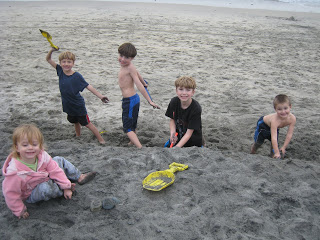 Then after our New Year's Dinner, just simple soup and biscuits, we broke out the New Year's Cake. FishBoy4 was especially excited to hear that even though it was not his birthday, he still got to blow out the candles! Very cute, indeed.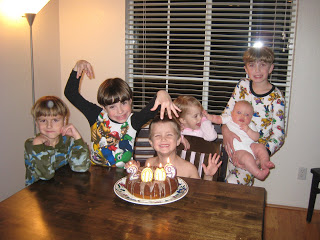 How about you? What did you do to Ring in the New Year — with kids?
1. Write about it on your blog and bring your link back here. (For specifics on how to post in Mr. Linky, go here.) Please make sure that you link to this roundup in your post so that your readers have a chance to see all the other great ideas that will be posted here. Share the wealth!
OR
2. Share what you did it in the comments section.
Either way you'll be entered in a drawing to win a copy of The Family Planner. Now's the time to think about organizing your life and your family in the New Year. This planner would be a great asset to any family.
I love the clear, sturdy cover and the spiral binding that isn't going to come undone, no matter what your toddler tries to do to it. With monthly and weekly pages as well as information pages for everyone in the family, this planner is a great tool to get things in line in 2009.
Check it out! Giveaway will be open until Tuesday night at midnight PST. Winner to be announced Wednesday morning.
Please share your ideas for New Year's here. If you're writing it all down, you'll have a great resource for next year when 2010 looms big! And if you haven't already, please visit Amy and Kate to see what great ideas they generated for our benefit.